Banking Veteran Judy Turner Retires from Private Bank of Decatur May 31
Banking veteran Judy Turner retires May 31; her colleague Brent Adams named new President of Private Bank of Decatur.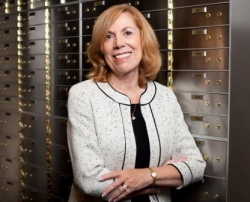 Atlanta, GA, April 14, 2016 --(
PR.com
)-- Private Bank of Buckhead announces a transition of leadership for its
Private Bank of Decatur
division. Private Bank of Decatur President Judy Turner is retiring May 31. In anticipation of that change, the bank's Brent Adams is working closely with Turner and will serve as her successor.
"In 2011, at a time when she could have been resting on the laurels of a remarkable career in banking, Judy joined us to help structure and open Private Bank of Decatur," says Charlie Crawford, President, CEO and Chairman of Private Bank of Buckhead. "Judy and her team opened the doors of the Decatur location in October 2012. Notably, last year about this time Judy celebrated a milestone of 50 years in banking. I am honored and proud to have worked with Judy, and look forward to her continuing support of the bank. Among other ways, Judy will remain active as a member of the Private Bank of Decatur Board of Advisors."
Crawford notes that, as Adams takes on additional responsibilities at Private Bank of Decatur as its President and spends the majority of his time there, he will continue to oversee business development for the entire bank and remains Executive Vice President and Senior Lending Officer for Private Bank of Buckhead, the parent organization. Adams will celebrate his 10th anniversary with the bank this summer as he was one of the founding employees who helped organize the bank prior to its opening.
"I appreciate Brent's willingness and flexibility," Crawford says. "Brent and Judy will be working together to ensure a smooth transition. It's worth noting that they have worked together in the past at Bank South in Decatur, and they both have worked with Decatur Branch Manager Juanita Marzette previously, so this transition seems all the more natural."
Judy Turner began her career in banking on March 16, 1965, and has spent all of that time in banking in the Atlanta area – more than half of her career in the City of Decatur.
"I've remained in banking so long because I enjoy the interaction with the customers and the ability to help people and the community," Turner says. "In fact, it has never felt like work to me. It just feels like I've been able to help people accomplish their goals."
Adams says he looks forward to further involvement with the bank's customers in Decatur and beyond. "Private Bank of Buckhead chose Decatur as its first market expansion because of great bankers and great customers. I am proud to take the baton from Judy, knowing that bringing Private Bank of Decatur into its fourth year has been a labor of love for her. Judy and I share the philosophy that community involvement and the personal touch are integral to community banking, and I take that tradition seriously."
Crawford says that, as part of the transition, the bank will be holding both internal and community events to salute Turner and welcome Adams to his new role.
"It's gratifying and a bit humbling that Judy chose to round out an exceptional career with us," he says. "What has continued to set us apart is first-class banking and financial services delivered by highly experienced professionals like Judy and Brent and their teams in Buckhead and Decatur, and this handoff ensures our continuing commitment to building long-term, first-name relationships with our clients."
Private Bank of Buckhead brings a private banking approach to all clients across all functions of the bank. The bank – now in its 10th year – is designated a Preferred Lender by the U.S. Small Business Administration, and includes a dedicated mortgage solutions unit, PrivatePlus Mortgage. Private Bank of Buckhead is located in Piedmont Center (Building Three). Private Bank of Decatur is located at 150 East Ponce de Leon Avenue in Decatur, at the corner of Ponce and Church Street. The mortgage division is represented in both Buckhead and Decatur, and does business nationally - 50 states and the District of Columbia.
Contact
Plant Communications, LLC
Drew Plant
404-634-7102
www.PlantCommunications.com

Contact