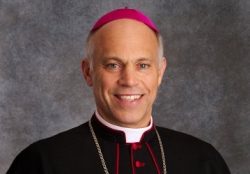 Santa Paula, CA, April 19, 2016 --(
PR.com
)-- On Saturday, May 14, the Most Reverend Salvatore J. Cordileone, archbishop of San Francisco, will serve as commencement speaker at Thomas Aquinas College's annual graduation exercises. During the event, Archbishop Cordileone, who also heads the USCCB's subcommittee for the Promotion and Defense of Marriage, will receive the school's highest award, the Saint Thomas Aquinas Medallion, in recognition of his life-long fidelity and service to the Catholic Church.
"We are honored and delighted that our long-time friend, Archbishop Cordileone, will be with us for Commencement, especially as this visit comes so soon after the publication of Pope Francis' recent exhortation on marriage, Amoris Laetitia," says Dr. Michael F. McLean, president of the 4-year, Catholic college. "Nationally, Archbishop Cordileone is known for the clarity of his teaching about marriage, the family, and the unborn, and the courageous witness he gives in their defense. In the Bay Area, too, he serves his flock as a faithful shepherd. We very much look forward to His Excellency's visit and to his remarks at commencement."
Archbishop Cordileone will address a graduating class of 79 students who hail from across the United States and abroad. Upon completion of the college's rigorous, 4-year curriculum that includes mathematics, natural science, Latin, literature, philosophy, and theology, each graduate will receive a Bachelor of Arts degree in liberal arts. These new alumni will go on to a wide variety of pursuits including law, medicine, business, military service, education, public policy, and journalism as well as the priesthood and religious life.