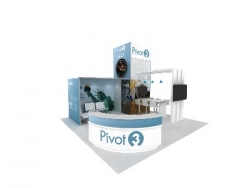 Tustin, CA, April 20, 2016 --(
PR.com
)--
ExpoMarketing
, a trade show booth rental company based in Tustin, California, is proud to have three graduates of the exhibit design program at Bemidji State on its team.
Jorge Navarro and Patrick Trepanier are heading up ExpoMarketing's exhibit design department. Both are highly skilled designers who understand client brand and visions and translate those into exhibit rentals that are unique in the industry. Kimberly Hacker, also a graduate of Bemidji, is an Account Executive for ExpoMarketing. Her design skills are invaluable in creating the complete experience for the company's rental exhibit clients.
The Bemidji State design program is very unique. According to Randal T. Acker, President and COO of EXHIBITOR Media Group, "The $80 billion trade show industry doesn't get much attention in higher education. However, the unique exhibit design program at Bemidji State lays a strong foundation for its graduates and in fact gives them a head start in the learning curve that most of us in the industry have to learn through the school of hard knocks. The students in the program at Bemidji State are engaged with the industry before they even graduate, via field trips, industry speakers, internships, participating in industry events like EXHIBITORLIVE and EDPA chapter meetings. In fact one recent graduate was told by a long time industry veteran at EXHIBITORLIVE that they as a recent grad knew more industry people than them. Our industry has a great future with programs like Bemidji State preparing our next generation of employees."
ExpoMarketing Group is launching an exhibit design internship program for Bemidji Sate students. According to Laurie Pennacchi, CEO of ExpoMarketing, "ExpoMarketing is giving back by offering these talented students the opportunity to gain real experience in their field of study. We can provide them the unique advantage of learning to create exceptional rental exhibits through smarter design."
About ExpoMarketing
Now celebrating its 25th anniversary, having opened its doors in 1991, ExpoMarketing is a pioneer of the trade show booth rental concept. The company focuses on the overall experience of its clients' show presence. By offering a rental option, ExpoMarketing's clients can achieve spectacular show floor results without breaking the budget. For more information, visit www.ExpoMarketing.com