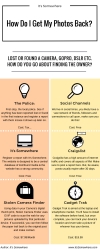 London, United Kingdom, April 21, 2016 --(
PR.com
)-- With two billion smartphones world wide [1], one billion digital cameras and over 20 million GoPro's sold since the companies formation, the unfortunate reality is that some of these may go astray on trips, holidays and days out. But what should you do if you if you do find yourself in this situation? What's your best chance at tracking down your device or at getting those precious photos back? It's Somewhere, a website aiming to tackle this problem, has some advice.
Your first port of call should be the local police station! Unfortunately for us all, the police will be very unlikely to launch a pro-active investigation, knocking down doors and calling in their informers. But what you can do is submit a lost report, if you're lucky enough, a good samaritan may hand in your device to the police. The police should also be a priority for insurance purposes!
Next you need to get onto your social channels and spread the word! A lot has changed with the mass adoption of networks such as Facebook, Twitter and Instagram; social media has truly revolutionised the way we communicate and interact with each other. Your social media account gives you access to plenty of wired in friends and acquaintances to share your details with and track down those precious memories. Check hashtags on Twitter such as #FoundCamera or the locations name to see if anyone has posted anything in the immediate instance, the quicker you can check and spread your message on social networks, the better!
Pro Tip: If the device you've lost is logged into Facebook, you can pull a list of 'logged-in locations' via your account security. Simply go to your 'settings' page and click the 'security' tab on the left hand side, this will bring you to a page with the option of seeing where you're currently logged in. If one of these locations brings up a red flag, you'll have the IP address of where your rogue device is. At this point, it's suggested that you get in contact with the relevant authorities with this information instead of doing anything with it yourself.
Register reports on websites dedicated to finding lost cameras such as It's Somewhere, a web based community for finding and returning lost and found devices around the world. The website, which has been operating since the start of the year, has already registered their first success when a GoPro Hero was found bobbing around at Millaa Millaa Falls in Australia and quickly returned the device to it's original owner within one week [2]. Those who have lost or found a media device such as cameras, GoPros, DSLRs & mobile phones etc. can simply submit a report via It's Somewhere and the website will broadcast it to their community as well as storing the report for the future incase someone finds the device at a later date.
Find online community notice-boards such as Craigslist, the back to basics no thrills posting board. This is a likely place that someone who has found a device will look, so register a lost/found report here. If you've lost your device in another country, different countries may have different market leaders for online community posting boards, but Craigslist is certainly the international juggernaught. Be aware, most postings will expire after 30 days with Craigslist.
These days, backing up your photos is the obvious way to stop the need to track down a lost device. Apart from the monetary value, the priceless photos and videos can be backed up online if you have a device connected to the internet, or failing that, buy a hard drive to back up your pictures and memories on the go.
Losing a camera can be difficult for your bank account, but losing those pictures on the go can be heartbreaking. Always back up your device, either via the cloud or a removable hard drive! Failing that, try a combination of these recommendations for the best shot at get your camera back.
[1] http://www.telegraph.co.uk/technology/mobile-phones/11287659/Quarter-of-the-world-will-be-using-smartphones-in-2016.html
[2] http://www.pr.com/press-release/660300