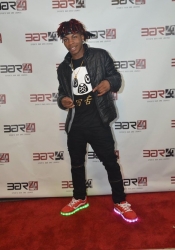 Baltimore, MD, April 25, 2016 --(
PR.com
)-- Millennial Hip-Hop Teen Dancer, Tyshawn Johnson a.k.a YvngSwag who is well known on social media & Instagram with over 330,000 followers decided back on March 22, 2016 along with his friend Jalen Morris to get together and have some fun, and make a YouTube dance video to Ghost Town DJ's "My Boo" which now has gotten over 98,000 views on YouTube which can be seen here in just a short period.
https://www.youtube.com/watch?v=PZyHQuCA5qU
The video has caught the attention and likes of Maryland basketball players Jared Nickens, Jaylen Brantley and Damonte Dodd who have been dancing to "My Boo" by Ghost Town DJs for weeks and now they're trying to make it a movement. The movement doesn't stop in Maryland -- they've spread the dance to Villanova, Virginia Tech and Marquette and now sources are saying the NBA.
While catching up with YvngSwag he was very shocked and surprised that the video has gained that much attention when his latest dance video Big Green Tractor Remix has been going viral all over Instagram with over 8 million views at the same time My Boo has been taking off. YvngSwag who is a multicultural hip-hop dancer on the rise towards success is very honored and pleased to know that his videos are inspiring others to go out, and dance and to just be yourself and have fun doing it.
YvngSwag has made numerous dance videos on Instagram, Vine, YouTube and worked with the likes of Hip-Hop artists T-Wayne, Yalee, Mariah Lynn and much more just to name a few. To see more videos from Yvngswag, and learn more about him you may contact YvngSwag Entertainment at YvngSwagEntertainment@gmail.com follow on Instagram @yvngswag or visit http://www.YvngSwagOnline.com.