Emport LLC Introduces AlerTox Sticks Mustard Rapid Allergen Test Kit
The AlerTox Sticks line of easy, on-site allergen detection kits now includes a test especially for mustard: AlerTox Sticks Mustard. The kit is designed for food manufacturers whose foods, beverages and surfaces may become contaminated with mustard.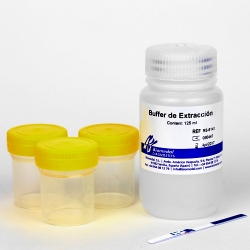 Pittsburgh, PA, May 02, 2016 --(
PR.com
)-- For many people, mustard is simply a topping for hot dogs or pretzels. But for others, the mustard plant is a dangerous allergen. This is why Emport LLC is so pleased to announce that the AlerTox Sticks line of rapid, on-site allergen test kits now includes AlerTox Sticks Mustard.
AlerTox Sticks Mustard is an easy to use rapid test that detects traces of allergenic mustard protein in foods and on surfaces. The kit offers results in less than 15 minutes and requires no equipment and no scientific knowledge at all. The limit of detection is 1ppm as measured in ground raw unprocessed mustard seed. This ensures that even very low levels of mustard contamination can be identified in ingredients, finished products, and/or production surfaces.
It is the most recent addition to the AlerTox line, which also includes Sticks lateral flow tests for soy, casein (milk), egg, fish, crustacean, almond, hazelnut, and peanut along with a wide variety of ELISA tests.
Although mustard is not one of the top 8 allergens covered by FALCPA in the US, regulations in Canada and many parts of Europe require it to be treated and labeled as an allergen (comparable to the way peanut, milk, egg, etc. are monitored and labeled in America). Because mustard is not included in FALCPA regulations, it does not need to be identified when included in packaged foods. For example, mustard oil can be listed in the ingredients of a food as simply "vegetable oil" and mustard seeds or powder can be listed as simply, "spices."
Mustard can be found in some less-than-obvious sources. Some foods that may contain mustard include: pickled products, mayonnaise, salad dressings, seasoned flours for pizzas and fritters, baby food, processed meats, curry pastes, wasabi, etc. Because mustard is considered to have antibacterial, anti-fungal, and laxative effects, it can be found in some over-the-counter and prescription medications and treatments.
Mustard is a member of the Brassica family, which also includes plants like cabbage, cauliflower, and Brussels sprouts. Although they are not commonly eaten in the first place, the seeds or sprouted seeds from these relatives of the mustard plant will generally also cause an allergic reaction in a mustard-allergic individual. They will also trigger a positive response in AlerTox Sticks Mustard. Wasabi, another member of the Brassica family, will also trigger a positive response in AlerTox Sticks Mustard.
AlerTox Sticks Mustard is available for purchase in kits containing ten single-use tests, and is distributed within the US and Canada by Emport LLC. Emport LLC also distributes the GlutenTox line of lateral flow gluten test kits.
About Emport LLC:
Started in 2011, Emport, LLC operates with a simple mission: more safe food, more happy people. Accordingly, we are proud to distribute a growing assortment of quality control methods for commercial kitchens within the United States and Canada, including GlutenTox, AlerTox and OleoTest. www.emportllc.com
About Biomedal Diagnostics:
Biomedal S.L. is a biotechnology company whose mission is to develop and commercialize new technologies, services and products for research, bioindustry and diagnostics. Biomedal Diagnostics offers a large variety of products and services related to human health. It already holds a position in the market of products for analysis related to immunological diseases, and rapid tools for food safety analysis. More information available at: www.biomedal.com.
Contact
Emport, LLC
Emily Kaufman
412-447-1888
www.glutentox.com

Contact