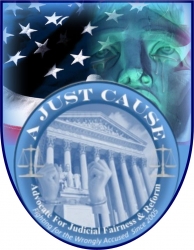 Denver, CO, April 29, 2016 --(
PR.com
)-- Advocacy group, A Just Cause, announces that the Thursday, April 28, 2016 segment of AJC Radio's, "Spotlight on Capitol Hill" was to shine the spotlight on Representative Karen Bass of California (www.AJCRadio.com, 8-10 PM ET).
"Thanks to our unique radio segment, our elected representatives from all over the country have the opportunity to share with America their initiatives and achievements in the United States Congress," explains Lamont Banks, A Just Cause's Executive Director. "Our goal is to continually bring information to the American people, and raise awareness concerning the many issues we face in this country everyday," adds Banks.
"Representative Karen Bass is and outstanding woman that's making a huge difference on Capitol Hill. What really stood out to me was her passion regarding foster care, and protecting the children of America. Her sincere concern about our children is an outstanding way of giving back," adds Banks.
According to her official website, "Prior to serving in Congress, Congresswoman Bass made history when the California Assembly elected her to be its 67th Speaker, catapulting her to become the first African American woman in U.S. history to serve in this powerful state legislative role. Congresswoman Bass served as speaker during California's greatest economic crisis since the Great Depression. In addition to helping to navigate the state through a very difficult time, she also championed efforts to improve foster care and quality healthcare for Californians. Also, under her leadership the Assembly fast-tracked federal economic stimulus legislation that aided Californians who have been affected by the national economic crisis as well as jumpstarted billions of dollars of infrastructure projects." (https://bass.house.gov/about/biography)
"Congresswoman Karen Bass was re-elected to her third term representing the 37th Congressional District in November 2014. Congresswoman Bass serves on the House Committee on Foreign Affairs where she is Ranking Member of the Subcommittee on Africa, Global Health, Global Human Rights and International Organizations. As a member of the House Judiciary Committee, Congresswoman Bass is also working to craft sound criminal justice reforms as well as protect intellectual property right infringements that threaten the economic health of the 37th District...She was selected by Democratic Leader Nancy Pelosi to serve on the prestigious Steering and Policy Committee, which sets the policy direction of the Democratic Caucus, as Organization, Study and Review Chair. Congresswoman Bass is also playing a leadership role in the Congressional Black Caucus (CBC), where she serves as Secretary for the 114th Congress." (https://bass.house.gov/about/biography)
"We invite you to tune in this week to AJC Radio as we shine the spotlight on a true advocate for justice, as we discuss the extensive contributions of Representative Karen Bass," says Banks.
AJC Radio hosts had the privilege of having exclusive interviews with both Democrats and Republicans alike, in the House and in the Senate, to include: Congressman Charles Rangel (D - NY), Congressman John Conyers, Jr., (D – MI), Congressman James Sensenbrenner (R – WI), Senator Mike Lee (R - UT), Congressman Henry C. "Hank" Johnson Jr. (D – GA), Congressman Tom Marino (R – PA), Senator Chuck Grassley (R – IA), Congresswoman Barbara Lee (D – CA), Congressman G.K. Butterfield (D – NC), Congressman Hakeem Jeffries (D – IL), Congressman Dick Durbin, Congressman Blake Farenthold (R – TX), and Congressman Danny Davis (D – IL). We've also featured other members of Congress such as Congresswoman Sheila Jackson-Lee (D - TX), Congresswoman Nancy Pelosi (D – CA), Senator Orrin Hatch (R – UT), Senator Patrick Leahy (D - VT), Senator Charles Schumer (D - NY), Congressman Cedric Richmond (D - LA), and Representative Pedro Pierluisi (D – PR) concludes Banks.
For more info on AJC Radio programming -- including program archives - visit www.AJCRadio.com. Follow the channel on Twitter @AJCRadio. AJC Radio, "Spotlight on Capitol Hill" segments air Thursdays, 8-10 PM ET.
About AJC Radio
AJC Radio is an Internet radio presentation produced by the advocacy group, A Just Cause (www.a-justcause.com). The programming is designed to bring a variety of discussions relating to the challenges that face America, as well as address the positive things our Congressmen and Congresswomen do everyday to help the American people.
Related press releases: http://www.a-justcause.com/#!2015-press-releases/cl69
A Just Cause
(855) 529-4252