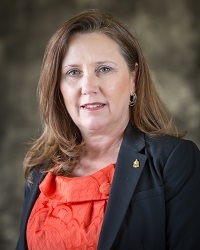 Winston Salem, NC, May 03, 2016 --(
PR.com
)-- T.E. Johnson & Sons, a real estate investment and property management company, today announced the promotion of Cathy Robertson to Vice President of the firm. Robertson, steps up behind retiring Tom Johnson, who served the firm faithfully for more than 30 years.
"Cathy has been a key part of our company's growth since joining the firm. Her 23 years of experience, and progressive residential expertise will continue to strengthen T.E. Johnson's position as a leading property management firm in Winston-Salem," said Phillip W. Johnson, Jr., President of T.E. Johnson.
Robertson, a native of Lexington, NC is a licensed Real Estate Broker in North Carolina. She earned her Accredited Residential Manager® (ARM®) designation in 2012.
A CPM® candidate, she is actively involved with the local Institute of Real Estate Management (IREM) Chapter 56. In addition to Chapter Treasurer she has served as Counselor, Chairman of the Industry Partner program, and the Income & Expense Contact. Cathy has been included among 72 "Women Changing the World of Real Estate Management" by the International Journal of Property Management (JPM). Ms. Robertson was recently appointed to Governing Council during the IREM Fall Leadership Conference held in Salt Lake City. She also serves IREM nationally as a member of the Membership & Credentialing Committee.
As a member of the Winston Salem Regional Association of Realtors®, Robertson serves on the Realtor Political Action Committee (RPAC) and Grievance Committees and is a member of the NC Property Management division.
"I am honored that the Johnson family has selected me for this position," said Robertson. "I look forward to continuing the legacy of this prestigious company."