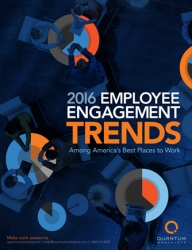 Omaha, NE, May 05, 2016 --(
PR.com
)-- Quantum Workplace, an employee feedback software company dedicated to making work better every day, has released the results of its
2016 Employee Engagement Trends study
. There was little change in engagement between 2014 and 2015, but factors driving engagement related to managers declined significantly, revealing a weakness in leadership.
The annual report offers employers and human resource professionals insights about trends occurring in engagement across industries and demographics. The study analyzed the Best Places to Work survey responses of more than half a million employees from over 8,700 companies across America. The aggregated data provides a look at overall trends in employee engagement, as well as a detailed look at what influences are most important to different types of employees.
Although overall engagement has fallen, the decline is not equal across demographics. In fact some demographics are significantly more engaged, or engaged by different factors, than last year. Some highlights of the survey include:
Health care is the least engaged industry at 56.7 percent. That caused them to drop down six places in industry rankings.
Although employees between the ages of 26-35 are the least engaged (67.3 percent), their engagement has increased 1.13 percentage points since 2014.
While 72.2 percent of men and 67.9 percent of women are engaged, only 40.9 percent of employees with another gender identity are.
72 percent of Hispanics and Latinos are engaged, but just 63 percent of multi-racial employees are.
Overall, the engagement factor that fell the most significantly (-2.3%) was having regular, constructive feedback from managers.
"Employee engagement is not static, so what sets this report apart is that it looks at engagement on a macro and a micro scale," said Greg Harris, president and CEO at Quantum Workplace. "The overall engagement numbers didn't show dramatic change from the previous year. But the variation comes when we zoom in. Employers can see where their engagement strategies are working, and where there needs to be refinement.
"Unless we keep up with the current trends, it's impossible to improve engagement. By digging, employers and HR can be more aware of trends and respond to them in a timely manner. The next step is for leaders to measure and track the specific changes that are occurring in their own organization."
About Quantum Workplace
Quantum Workplace is an employee feedback software company that helps organizations retain top talent, motivate performance, understand turnover, and build magnetic cultures. Serving 8,700+ organizations annually, the company's all-in-one platform powers the entire employee experience with employee surveys, peer-to-peer recognition, goal management, 360 feedback, and performance conversations. As the survey partner for America's Best Places to Work, Quantum Workplace has honored top workplaces for more than a decade. Above all, Quantum Workplace is passionate about making work better every day. For more information, visit www.quantumworkplace.com.