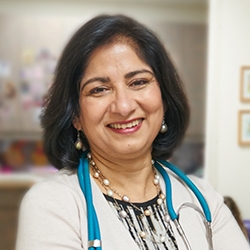 Midland, MI, May 06, 2016 --(
PR.com
)-- 35-year mid-Michigan primary care health care team strengthens pediatric resources.
Family Medicine Associates of Midland announces that Monica Dhar, M.D. has joined the practice as a pediatric physician and is accepting new patients.
Dr. Dhar, a longtime Midland resident, brings 17 years of trusted mid-Michigan pediatric experience to the practice. She attended medical school in India and completed her general pediatrics residency at the University of Mississippi (Jackson, Mississippi). She is board certified in general pediatrics and a Fellow of the American Academy of Pediatrics. Her clinical and teaching experience includes the University of Alabama Satellite Clinic, where she taught residents of pediatric and family practice, as well as mid-level providers. In addition, she taught family practice residents at MidMichigan Physicians Group in Midland for 17 years.
"At Family Medicine Associates, we're enthusiastic advocates of lifelong health and wellness. I look forward to working with the other two pediatricians to continue that philosophy. I'm eager to help my young patients live healthy lives, every day," said Dr. Dhar.
FMA founder Dr. James H. Frye, M.D. said, "For over 35 years FMA has taken a holistic and comprehensive approach to patient care. Dr. Dhar's wealth of experience, compassion and systematic approach to patient education makes her a key addition or on/to our pediatric team."
Family Medicine Associates of Midland
For more information contact Katie Ledergerber at 989.374.0128 or visit fma555.net.
In mid-Michigan, Family Medicine Associates of Midland is known for 35 years of compassionate, expert care for adults and children. The physicians include Board-Certified Family Practitioners and Diplomates of the American Board of Pediatrics. The entire caring staff rallies around each patient while working as a team to help restore and maintain that person's optimal health.
Family Medicine Associates is a Blue Cross Blue Shield of Michigan and Aetna designated Patient-Centered Medical Home practice, dedicated to helping patients manage and maintain their best possible health.
Contact:
Katie Ledergerber
Family Medicine Associates of Midland
989.374.0128
kledergerber@fma555.net