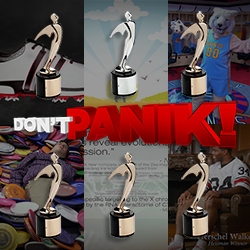 Carlsbad, CA, May 12, 2016 --(
PR.com
)-- Don't Panik! Selected as a Winner in the 37th Annual Telly Awards
The Telly Awards has named Don't Panik! (
dontpanik.tv
) as a winner of 1 Silver and 5 Bronze in the 37th Annual Telly Awards. This brings Don't Panik!'s total count to 22 Tellys. With over 13,000 entries from all 50 states and numerous countries, this is truly an honor.
About
Don't Panik! is an award-winning, full-service, cleverly-hyphenated marketing agency located in Carlsbad, CA. We provide creative diretion, video production, post-production, graphic design, visual effects, and color grading services for broadcast and web.
Not matter what you need, just remember - Don't Panik!
Visit us online at
dontpanik.tv
.