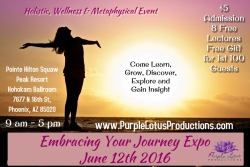 Phoenix, AZ, May 16, 2016 --(
PR.com
)-- "Now is the perfect time to focus on growth - physical, mental and spiritual. Come learn, grow, discover, explore and gain insight at the Embracing Your Journey Expo." - Robin Selby
The Embracing Your Journey Expo a Holistic Wellness and Metaphysical Event returns to the Valley on Sunday, June 12th from 9:00 a.m. to 5:00 p.m. in the Hohokam Ballroom at the Pointe Hilton Squaw Peak Resort located at 7677 N 16th St, Phoenix, AZ 85020. Purple Lotus Productions is proud to bring the Embracing Your Journey Expo back to Phoenix this summer for the third time this year.
The Embracing Your Journey Expo provides an opportunity for education and increased awareness of a variety of healing and natural health related modalities. This community holistic wellness and metaphysical event is a trusted resource to find world renowned, skilled practitioners, new and innovative services as well as unique and original products to help inspire a healthy Mind – Body - Spirit wellness journey.
There will be over sixty vendors offering an amazing variety of holistic, wellness and metaphysical products and services at the Embracing Your Journey Expo contributing everything from chiropractic, supplements and nutrition counseling to energy healing, tarot readings, aura photos and much, much more. There will also be a free gift for the first 100 attendees, raffle prizes every hour, and eight free lectures with topics covering health, well-being and spiritual development crafted to entertain and educate the public.
Admission is $5 per person and includes admittance to the vendor Expo. Children 10 and under are free. Tickets can be purchased online at Eventbrite.com or at the door. Whatever your wellness needs, there is something for everyone at this fun, family friendly event.
"Now is the perfect time to focus on growth - physical, mental and spiritual. Come learn, grow, discover, explore and gain insight at the Embracing Your Journey Expo," encourages Robin Selby, owner of Purple Lotus Productions.
Purple Lotus Productions, a family owned business run by mother daughter team Erin McNamara and Robin Selby, has provided a one stop shop for all the Mind - Body - Spirit needs of the Valley since 2009.
Information: Erin McNamara, Purple Lotus Production, 480-296-1928, info@purplelotusproductions.com
For more information, press only:
Erin McNamara
480 - 296 – 1928
info@purplelotusproductions.com
For more information on Purple Lotus Productions:
www.purplelotusproductions.com
https://www.facebook.com/purplelotusproductions
https://twitter.com/purplelotuspro