Bomba-Deal Announces Launch of Innovative Shock Tape Bird and Pigeon Control and Repellent Electric DIY Kit
There's no doubt birds and pigeons can be a huge nuisance and finding a safe solution that keeps them away without harming them can be a serious challenge. Stepping up to answer the call is Bomba-Deal, who recently announced the launch of the Shock Tape Bird and Pigeon Control and Repellent Electric DIY Kit, a safe and effective way to keep all kinds of birds away, without harming them.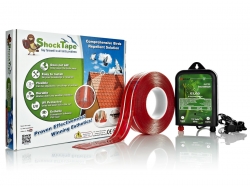 Miami, FL, May 23, 2016 --(
PR.com
)-- While many bird repellent solutions exist, the hard fact is most have serious drawbacks. From being ineffective, to inhumane, the demand for a new and better way to keep birds and pigeons away is a very real one. Fortunately, a new product is being widely praised for providing a real solution is this area, the recently launched Shock Tape Bird Repellent Electric DIY Kit. The new kit delivers a safe and humane, easy to install and affordable way to keep pigeons and other birds away from areas protected. The response to the product has been very enthusiastic.
"We are very happy to see Shock Tape launch because we know how much value it delivers to our customers," commented a spokesperson from Bomba-Deal, distributors of the innovative product. "It's our opinion nothing answers the problem of birds and pigeons acting like pests as effectively as Shock Tape, without harming the animals in any way. We think Shock Tape is going to exceed most costumer expectations, in a real exciting way."
According to the company, the product is much more effective than bird spikes and traps, which many also consider inhumane. Setting up Shock Tape is very easy and it can be attached to almost any kind of material, including shingles, iron, steel, aluminum, PVC, wood, plastic, marble and stone.
Early reviews for Shock Tape have been completely positive.
A.C., recently said in a five star review, "This product works very well. It keeps the birds away and doesn't harm them, which is super important and fantastic. They are very easy to install and I can do it without a hassle. It is well worth the price. This product is very high-quality and well worth the price. It came super fast and undamaged, which is fantastic. I would absolutely positively recommend this great, fantastic, high-quality product."
For more information be sure to visit
goo.gl/YB3sLK
Contact
Bomba-Deal
Shai Friedman
+972522365236
goo.gl/zbkza8

Contact