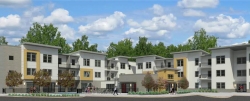 Carmel, IN, May 26, 2016 --(
PR.com
)-- Sila Capital has recently partnered with H.M. Mac, an Indiana development and construction company, on the the development of Echo Park, a 143 unit apartment complex in Bloomington, IN.
The town of Bloomington offers urban amenities while located in the hilly, forested landscape of south-central Indiana. It is home to Indiana University, Indiana's largest university with 42,000 students. It prides itself on being an ever-evolving college town with countless attractions and events ranging from Big Ten sports to national theater and musical acts to international cuisine to local festivals.
The development is currently under construction and will open in August of 2016.
Sila Capital is an Indianapolis, IN based privately held real estate investment and asset management firm specializing in investing, managing and participating in joint venture opportunities. The company's average deal size is $1-$10 million per transaction.
Sila has earned a reliable reputation as asset managers, successfully acquiring, financing, developing, leasing, owning and managing real estate assets and putting capital to work on behalf of a diverse client base.
The company is actively seeking value-add and opportunistic office, multifamily and mixed used asset acquisitions throughout the Midwest. It will also consider other area's of the country as well.
For more information, visit www.silacapital.com or contact Felix Shalit, felix@silacapital.com.