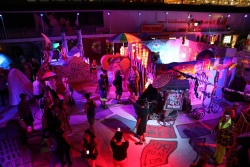 San Francisco, CA, May 26, 2016 --(
PR.com
)-- Midwayville, a mixed reality pop­up theme park, will materialize in San Francisco's Soma neighborhood every Friday nights 7:00pm to 11:30pm starting June 17 through August 26. The event is produced by the Mystic Midway (Edwardian Ball, Burning Man, Life Is Beautiful) who bring their trademark mix of immersive environments, interactive performance, creative gamification, and mixed reality technology to the heart of San Francisco. The SoMa StrEat Food Park location (428 11th St @ Division St., San Francisco, CA 94103) will be transformed into a multi­land pixelated theme park full of exciting attractions, including repainted buildings, a customized floor game board mural, food trucks, a stage show and vivid lighting systems. Tickets and table reservations will go on sale in May.
Baron Scott Levkoff, Director and Founder of the Mystic Midway, says "The crown jewel of the event is the Midwayville Game Shoppe where guests participate in an ongoing live storytelling experience to collectively unlock park attractions and achieve collective goals against Boss Monsters." Dozens of performers will improvise with guests to guide the community through each night's experience, making a unique event for each and every week's event. The Midwayville event is partnering with local philanthropic organizations charity challenges to the live game where guests tell stories to earn points and solve challenges faced by the community.
Ivy Lumpkin, event director for Soma StrEat Food Park said, "We are so excited to host The Mystic Midway at the Soma StrEat Food Park this Summer, and expect Midwayville to be packed with guests having a great time eating, drinking and playing in this uniquely San Francisco event." A rotating selection of six food trucks will be available within the park, as will multiple bars and VIP table reservations for large and small groups.
Midwayville is currently seeking marketing partner sponsors and corporate event buyouts for the series and individual events. Inquire with Mr. Levkoff for opportunities at scott@mysticmidway.com.
Midwayville brings a wondrous collection of talented artists and performers to every night's event, including:
­Barron Scott Levkoff (Mystic Midway,Spookeasy, Edwardian Ball, Mission Control)
­Paradox Pollack (Mystic Family Circus, Alien Fight Club)
­Ifn Whendy (Devil­Ettes, EXIT Theater)
­Nico Salazar (MeowWolf)
­Konstantin Pogorelov (Academy of Art University, Munkyfun) ­ Cody Gianotti (Disney Shanghai)
­H.P. Mendoza (Ersatz Films, Colma: The Musical, Now and At The Hour) ­ and more.
About The Mystic Midway
The Mystic Midway is a Mixed Reality Social Theater Troupe and community of artists, technologists, game designers, performers and cultural visionaries dedicated to creating deeply engaging, entertaining and meaningful social spaces. The Midway crafts playful experiences that integrate new technology and timeless strategies to engage the creative spirit in everyone. More at: www.MysticMidway.com, Twitter: ​@mystic_ midway, www.facebook.com/MysticMidway/
About Soma StrEat Food Park
The Soma StrEat Food Park is a culinary carnival and urban playground with a rotating lineup of culinary curiosities that are sure to amaze, delight and astound. The park features food trucks, beer, wine, carnival games, wifi, TV screens, and heat lamps for the cold nights. Our park is fun for the whole family even the dog. Location: 428 11th St @ Division St. In the heart of Soma San Francisco, CA 94103. More at: ​www.somastreatfoodpark.com