Local Company Sponsors Flint Bug Exhibit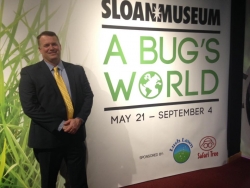 Flint, MI, May 31, 2016 --(
PR.com
)-- Local Michigan lawn care company, Lush Lawn and it's tree-division, Safari Tree, recently took on the responsibility of sponsoring the Sloan Museum's 'A Bug's World' exhibit in Flint. On May 21st, 2016 Lush Lawn & Safari Tree's CEO & Owner, Aaron Samson, attended the Sloan Museum's opening night event, and was able to see the exhibit, first-hand, before it was open to the public.
The interactive exhibit features a variety of species of insects as well as providing educational and entertaining displays. Attendees of the exhibit will be able to take a peek into the world of insects. This family-oriented exhibit is sure to thrill and chill spectators, and Lush Lawn & Safari Tree were happy to provide support in allowing the public to view this fun and educational platform.
Lush Lawn & Safari Tree is always looking for ways to extend their outreach in the community and the Sloan Museum sponsorship opportunity seemed to be a perfect fit. Lush Lawn & Safari Tree collectively offer lawn care, pest control, and tree care - and have branches located in Grand Blanc, Rochester Hills, and Brighton. They are the largest privately held lawn care company in Michigan, and service over 18,000 customers throughout SE Michigan.
'A Bug's World' exhibit will run at the Sloan Museum in Flint, MI May 24-Sept. 9,2016.
Contact
Lush Lawn
Tiffani Edwards
248-299-5874
www.lushlawn.net

Contact