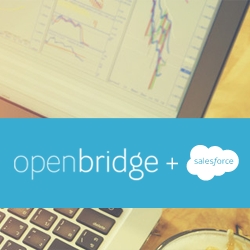 Boston, MA, June 02, 2016 --(
PR.com
)-- Today marks the public release of the integration between the data logistics platform Openbridge, and Salesforce Marketing Cloud Email Studio (formerly known as ExactTarget).
Marketing professionals now have direct access to data about email sends, opens, clicks, bounces, lists, subscribers, status changes, survey responses, and spam complaints without the need to tap their IT team. The integration with Salesforce Marketing Cloud Email Studio provides new pathways to explore and investigate marketing data. "By uncovering data locked in Email Studio, we are enabling marketing professionals and their partners to use tools of their choice, like Tableau or Microstrategy, to create reports, models, visualizations or undertake analysis," said Thomas Spicer, CEO and founder for Openbridge.
The new Openbridge integration will pave the way for marketers to get more comprehensive view of the customer. "Data is a building block in any effort to gain insights that optimize consumer engagement. Our new data bridge allows Salesforce Marketing Cloud users direct access to the data they need to improve performance," said Thomas Spicer.
For more information visit Openbridge's Salesforce Marketing Cloud Email Studio product page at
https://www.openbridge.com/salesforce-marketing-cloud-email-studio
/
About Openbridge
Openbridge is a data logistics platform designed to collect, discover and act upon real-time data simply, quickly and smartly. The Openbridge platform allows you to connect to reveal data from your marketing efforts from social networks like Facebook, Twitter, YouTube, Instagram as well as web analytics tools (e.g., Omniture, Webtrends, Google Anlaytics), media platforms (e.g., DoubleClick DFA, DoubleClick Search, AdWords), and in-store activity (i.e., point-of-sale, loyalty activity, etc.). To learn more information go to http://www.openbridge.com/
About Salesforce Marketing Cloud
Founded in 2000, Salesforce Marketing Cloud, formerly known as ExactTarget, is a leading cloud marketing platform. The company's solutions enable marketers to integrate customer data from any source to power digital marketing campaigns across multiple channels, all while leveraging sophisticated marketing automation capabilities. More than 6,000 companies around the world, including Coca-Cola, Gap and Nike rely on Salesforce solutions to drive customer engagement, increase sales and improve return on marketing investments. For more information visit http://www.exacttarget.com/