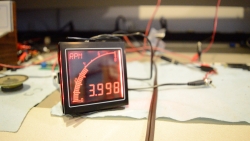 Knoxville, TN, June 16, 2016 --(
PR.com
)-- Jennova Inc., a specialist in smart energy management solutions, will introduce the latest advances to the company's array of patented Electrodynamic Energy Harvesting (EH) technologies at the sensors expo & conference to be held June 21 – 23 at the McEnery Convention Center in San Jose, California. In addition, Christian Pennisi, the company's director of operations, will extend their expertise to attendees by presenting on "Electrodynamic Energy Harvesting: Past Present & Future" on June 21st at 4:10 p.m.
"Jennova is dedicated to perfecting error-free technologies that harvest the energy typically lost in mechanical motion," says Terry Pennisi, the company's CEO and founder. "Our design supports unlimited applications. There are no boundaries to how long our technology can produce energy. As long as there is motion, our EH systems can generate power.
"Our demonstration at the conference will emphasize our Electrodynamic Energy Harvesting technology with several significant advances. The booth will show large voltage and current demonstration meters connected to an EH module to reinforce the power and efficacy of our systems. Another EH module will display how rapidly companies can implement IoT systems for maximum ROI, while an additional EH module connected to a LED Flashlight will illustrate that any device within our power range – i.e. lights, local sensors, valve controls, etc. -- can be powered by our technology."
Located at Booth 946 at the McEnery Convention Center in San Jose, Jennova will showcase demonstrations of the company's:
--EH modules connected to an EH boosting battery management circuit to show how the system can gather power at very low RPM from variable reluctance and vibration sensors
--Combination EH/battery unit allowing sensor IoT arrays to operate in excess of 20 years without maintenance
--EH module technology enabling use with systems like pumps cycling, HVAC units cycling, etc., where rotation or variable reluctance may be intermittent
--Battery management circuitry enabling the safe charging of high power lithium batteries (effective dumping of excess power) and safe battery turn off (protecting the IoT sensors)
--New patented Industrial and Wireless Diesel Tachometers, specifically designed to provide simple, self-powered solutions for generating tachometry readings from nearly any motor
In addition, Christian Pennisi will further expand on the latest innovations and developments in "Electrodynamic Energy Harvesting" during his June 21st presentation. This will include a review of technology methodologies and benefits as well as the IoT applications requiring a consistent and versatile means for powering billions of sensors for an indefinite amount of time.
"The IoT market is expected to be $330 billion and entail more than 50 billion connected devices by 2020," explains Christian Pennisi. "More than 20 million EH devices were sold in 2014. The opportunities are limitless for reliable, cost-effective EH power sources operating with 'fit and forget' technologies and equally well in new or existing infrastructures."
For more information on Jennova, its new EH technologies and the company's demonstrations and presentations at sensors expo & conference, please visit www.jennova.com or call 615-442-6551.
About Jennova Inc.
Founded in 2008, Jennova is dedicated to creating breakthrough products that benefit both mankind and the environment. The company's primary focus is on the creation of innovations that advance the efficient use of energy and broaden the range of viable harvesting sources.