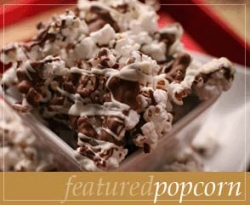 Farmington Hills, MI, January 14, 2008 --(
PR.com
)--
Valentine's Day Gifts - b'drizzled Gourmet Chocolate Drizzled Popcorn
Launches New E-Commerce Web Site for Valentine's Day.
b'drizzled, a woman-owned company focused on making and distributing the best tasting chocolate-drizzled popcorn on the market, has launched a new e-commerce web site http://bdrizzled.com just in time for Valentines' Day.
b'drizzled gourmet popcorn is a premium, white popcorn that is popped fresh, tastes great and is hand-drizzled with two types of chocolate every time. B'drizzled gourmet popcorn comes in a variety of flavors including Double Chocolate, Chocolate Cherry, Chocolate Peanut Butter, and more…
b'drizzled originally sold at gourmet and high quality food stores throughout Southeast Michigan. Thanks to the amazing response, b'drizzled gourmet popcorn can now be purchased across the country. Order b'drizzled gourmet chocolate popcorn today and have it shipped fresh via UPS to your home. You will soon be enjoying the best tasting gourmet chocolate popcorn ever.
b'drizzled is the perfect item to bring to a party or special occasion. It comes in its own serving container, and it tastes amazing with a perfect combination of gourmet chocolate and salty fresh-popped popcorn.
Treat yourself to the sweet and salty combination of b'drizzled gourmet popcorn. b'drizzled chocolate-drizzled popcorn is dressed for every occasion and makes a great party gift, Valentine's gift, teacher gift, hostess gift, corporate gift, or client gift.
"Valentine's Day is coming soon and everyone wants a chocolate candy gift to give their loved ones. b'drizzled Chocolate Gourmet Popcorn is the perfect Valentine's Day Gift. It's sweet, chocolate drizzled, gourmet popcorn that says I Love You." - Elaine Wyatt, b'drizzled Founder.
About b'drizzled Gourmet Popcorn:
b'drizzled Gourmet Popcorn is a woman-owned company, located in Farmington Hills, Michigan. b'drizzled is focused on making and distributing the best tasting chocolate-drizzled popcorn on the market. For more information visit the web site: http://bdrizzled.com or call them at 1-888-324-1604.
b'drizzled web site designed by
Ingenex Digital Marketing in Ann Arbor
.
###