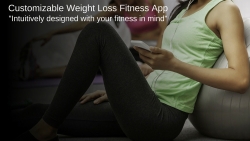 Charlotte, NC, July 01, 2016 --(
PR.com
)-- Brent Kasmer, a legally blind and certified personal trainer is
crowdfunding on Indiegogo
to develop a customizable fitness app that is able to be personalized by each individual user. The fitness app plans to fix two major problems leading the fitness industry today.
- All fitness solutions offer a "one size fits all" program
- They don't eliminate the reasons people quit
His disability has been helping him to not only better understand the physiology of the body to modify people's programs, but also be more empathetic to those struggling to maintain their fitness.
Unfortunately, due to the growing amount of responsibilities and continued lifestyle changes for people, finding a solution that satisfies all varying needs is virtually impossible so over time people quit their exercise programs.
A study by the University of Scranton indicates that only 8% of us that start a weight loss goal actually reach that goal. In order to ensure the fitness app's success it was necessary to determine the top reasons for why people quit.
The top 8 reasons found:
- Affordability
- Time
- Everybody's different
- Lack of accountability
- Injuries &/or lifestyle changes
- Lack of knowledge
- Undefined goals
- Lack of plan or direction on how to reach goals
Their commitment is to not only provide the world with an easy, effective solution to a continued problem... but also to overcome barriers to success when people try to reach their weight loss or health goals.