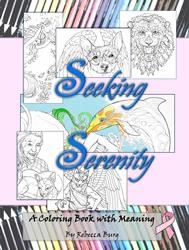 Naples, FL, July 02, 2016 --(
PR.com
)-- Your loved ones are the stars of this book.
An unusual, fresh take on the adult coloring book craze. Original images by award winning artist and cancer patient, Rebecca Burg. Created in her efforts to help fellow patients, Seeking Serenity includes lovingly hand-drawn portraits of real people and pets from photos sent by Burg's readers.
"I created Seeking Serenity while I was enduring chemotherapy for breast cancer," Rebecca says. "I used coloring to ease anxiety during the pain of cancer treatment and realized, as an illustrator, I could make my own book. It would be a way to help fellow patients, and anyone who colors for fun or stress relief."
Rebecca reached out to the public, looking for people interested in submitting photos so she could sketch from them to create interesting coloring book subjects.
"What's more fun than a beautiful image that has a real story, real meaning, behind it?"
Burg ended up with the expected; photos of beloved cats and dogs, and a few people. Unexpected were the interesting requests; mermaids with a loved one's face, magical cats, a yoga teacher with dragons, and a fairy drawn in memory of a little girl. Many photos were submitted in memory of a loved one who had passed.
"Drawing some of these brought tears to my eyes," Rebecca admitted. She recalls sketching from a photo of a rescue dog, named Lucy, who'd passed away. Lucy's grieving owner was interested in the idea of being able to color her dog's custom drawn portrait as a way to deal with the loss. She also was thrilled to memorialize Lucy's legacy as a loving canine companion in a published book for the world to see. One gentleman sent in a photo of his mom and her two favorite pets. It was a surprise and when his mom saw "her" page in the coloring book, she cried.
"It's these acts of love and compassion that make this coloring book truly meaningful," Rebecca says. "The pages in my book are reminders of what really matters in life; our connections with others."
More information on Rebecca's Blog: www.riseofcourage.com