"Behind the Door" - the New Book from Writer A. Gavazzoni is More Than a Psychological Erotic Thriller, It's the Perfect Blend of Mystery, Sensuality and Intelligence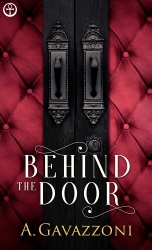 New York, NY, July 06, 2016 --(
PR.com
)-- "Behind The Door" brings to the table - or the chaise longue - mystery, romance and humor, packed with high doses of eroticism.
A.Gavazzoni debuts with the page-turner, heart-racer book "Behind The Door." This thriller novel is full of mystery with the death of Lara, a beautiful architect, at lawyer Mark's hands during a sex game. For Mark's defense - Carl - his defense attorney - hires Simone, a renowed psychiatrist specialist in sexual behavior, to help him buttress his argument that Lara's death was accidental. Taboos are exposed, and the readers learn about Mark's steamy yearlong affair with Lara, through his memoirs.
While studying Mark's memoirs, Simone continues to treat her psychiatric patients and researching for her next book, while her attraction to the enigmatic lawyer increases. As the readers move from chapter to chapter, the normalcy in Simone's life ends when a serial killer starts torturing and killing women in her town, and new details from Lara's and Mark's life unveil to show the readers this underground, not-so-talked-about life-style of the rich and influential people.
Many mind-twisting chapters and surprising detours lay ahead of the reader who chooses to adventure themselves into the world of "Behind The Door."
Contact Information:
Author A. Gavazzoni
www.agavazzoni.com
facebook: a.gavazzoni
e-mail: a.gavazzoni3@gmail.com
Contact
A.Gavazzoni
Adriana Gavazzoni
+554199750073
www.agavazzoni.com

Contact