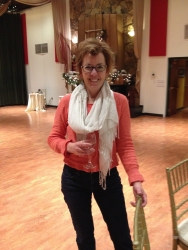 West Hartford, CT, July 11, 2016 --(
PR.com
)-- New England has been home to many great artists since colonial times. They paved the way for current artists with their strong images depicting everyday life in our unique region of the United States. While it is an accomplishment to be accepted into any art exhibition, multiple acceptances into national and international shows makes a rather strong point that an artist is a master of his or her craft.
"Rita Paradis is a true master of colored pencil," says Joan Pilarczyk, Director of Artsplace in Cheshire, CT. "We are very honored to have Rita on the teaching staff of Artsplace. Rita is both an amazing artist as well as a kind and profoundly gifted teacher, well loved by her students, many of whom have been taking her classes ever since she began teaching here 12 years ago!"
Long time friend and award winning artist Mally DeSomma, PSA, CPS, comments, "Rita's vision of painting not only expresses her emotional feelings for the subject, but shows her skill and expertise in drawing and laying in vibrant colors. When viewing one of her pieces I am always impressed by her luscious handling of objects ----they come to life with her use of intense color."
Jim Hughes and his daughters, Abby and Keely, got to know Rita outside the Art world through their association at Hartford Ballroom. "We didn't really know that Rita was so famous. She was just fun to dance with and we loved her company. She was a kind hearted and approachable person from day one. In the beginning we would get together outside of dance for an 'art day' and just paint together... We didn't realize we were sitting with the Leonardo DaVinci of Colored Pencils! She inspired us so much that we began to share our experiences with our students in SuperKids Academy of Martial Arts & Dance. We created an experience we like to call 'Art Paradise' (
www.artparadise.org
www.facebook.com/makepottery
) which offers people the joy of art in a caring community with others... 'We were able to teach a Kids Paint & Play event as part of our Parents Date Night because of our connection with Rita,' says 12 year old Abby with 10 year old Keely beaming in the background. 'I am all about painting now!'"
www.superkids-karate.com
and
www.west-hartford-dance.com
Indeed, Rita Paradis (
www.RitaParadisFineArt.com
) has a powerful impact on young and seasoned artists alike. Her recent piece is titled, "Portrait of My Parents." "It is stunning and powerful in its simplicity, however, it stops you in your tracks and causes one to pause... it swoops you up to another place," says Jim Hughes.
"We are so happy to be sponsoring Art Paradise's Paint Your Pet art class series with Rita. We love Rita's work and her love of pets and painting," says Suzie Mathes of Petals & Paws (
petalsandpaws.net
).
Joan continues, "we are so proud of Rita. Her 10th acceptance into the National CPSA show is a well deserved honor. Rita Paradis has won two Awards of Excellence in CPSA's International Exhibitions: a CPSA Award of Excellence for her piece titled "Variation on a Theme" in 2005, and for 'The Willing Suspension of Disbelieve' in 2006. Her latest piece is absolutely divine and we are rooting for her. Rita deserves every success. I am grateful to know her and be one of her many friends."
This year marks the 24th Annual International Exhibition of the Colored Pencil Society of America, to be held in Tacoma Washington from June 25 through August 13 2016, at The American Art Company Gallery, Tacoma, Washington.
Rita Paradis' parents will be there in spirit. Her portrait of them will reign supreme and hold court over the procession of the worlds best examples from the artists fortunate enough to be chosen for this great honor.
See Rita Paradis' painitng at
www.artparadise.org
and Facebook
www.facebook.com/MakePottery/