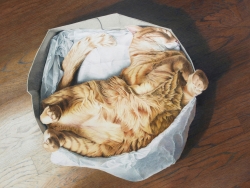 West Hartford, CT, July 11, 2016 --(
PR.com
)-- Art Paradise and Petals & Paws team up for "Paint Your Pet" art class series in West Hartford, CT.
Join National Award Winning Artist Rita Paradis for a special art class series and learn how to create a work of beauty honoring your very own beloved cat, dog, bird, hedge hog, or hermit crab...
Rita Paradis was recently honored with her 10th acceptance a National Art Show and will be making herself available for a special workshop event starting Thursday August 4 from 6:00 to 8:00 pm. "Rita Paradis will be sharing her award winning method for capturing the essence of our most treasured companions with a focus on how to paint the love in Pets eyes," says Jim Hughes. "Our pets lovers at Petals & Paws are really excited that Rita will be making herself available to teach us her award winning secrets," says proprietor Suzie Mathes.
Petals & Paws and Art Paradise, and SuperKids-Academy are co-sponsoring the event. See
www.ArtParadise.org
for further details on this important event begining Thursday, August 4th at 276 Park Road, West Hartford, CT.