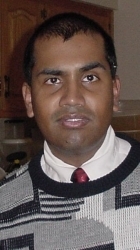 Farmingdale, NY, August 26, 2016 --(
PR.com
)-- John Samuel Jebaraj David has 13 years experience in the consumer products field. He is an Independent Agent for Amway which sells and distributes consumer products nationally.
www.amway.com/johndavid
He serves as an Accountant and Independent Sales Representative responsible for recruiting, training, troubleshooting and reconciliations. He is also responsible for sales, distribution and software consulting. Mr. David was born on January 31, 1975 in Vellore, Tamil Nadu, India. He earned his B.A. in Mathematics from Trinity International University in 1998 and received an Advanced Computer Science Certificate from Wilbur Wright College in 2002. In his leisure time, Mr. David enjoys decoding and deciphering the Bible. In addition to his placement in the magazine, Mr. David is listed on our website under the Top 10 heading. The Top 10 membership in America's Registry is allotted to only 10 individuals in a specific industry or profession. He is also a Lifetime Featured Member. The Featured Member program on the America's Registry website is allotted to those elite members who merit a position of high recognition. Such is the case with John Samuel Jebaraj David whose accomplishments in the field of Consulting/Business services have been exemplary.
America's Registry is publishing an annual magazine featuring a listing of some of our most prestigious members. It encompasses the past and present accomplishments of these members with featured stories in a colorful display. John Samuel Jebaraj David is among those chosen few who will grace the pages of our magazine.