Rust Bullet, LLC Announces Rust Bullet Clear Coat for Concrete
Rust Bullet, LLC today announced availability of a clear, anti-skid top coat designed to be used with its Rust Bullet for Concrete coating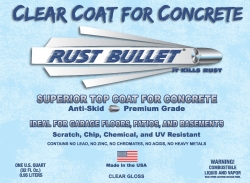 Reno, NV, July 15, 2016 --(
PR.com
)-- High performance clear anti-skid top coat for concrete floors.
Rust Bullet, LLC today announced availability of a clear, anti-skid top coat designed to be used with its Rust Bullet for Concrete coating.
"Since the announcement of Rust Bullet for Concrete, users have been asking for a simple, easy to use, premium grade top coat. Our Clear Coat for Concrete provides a proven clear top coat specially formulated with anti-skid for added slip resistance. It looks great, is easy to apply, lasts a long time and provides the performance people associate with Rust Bullet coatings," said Mike Moore, CEO, Rust Bullet, LLC.
Rust Bullet went on to describe some of the key performance elements of Clear Coat for Concrete:
· Water clear finish
· No hot tire lifting, peeling or flaking
· Chip and UV Resistant
· Armor tough durability
· Formulated with anti-skid materials to provide a slip resistant surface
· Prevents damage to concrete caused by chemicals and road salts
Rust Bullet, LLC is a coatings manufacturer, headquartered in Reno, NV, USA, specializing in protective, rust inhibitive and corrosion control coatings. Rust Bullet, LLC sells to businesses and consumers around the world through its global distribution network.
For more information, contact Rust Bullet, LLC at 1-800-245-1600 or via email at sales@rustbullet.com.
Contact
Rust Bullet, LLC
Mike Moore
1-800-245-1600
www.rustbullet.com

Contact