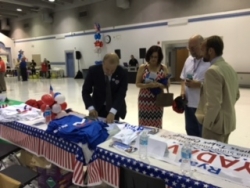 Casselberry, FL, July 15, 2016 --(
PR.com
)-- The Casselberry Chamber of Commerce held its 7th Political Hob Nob event last night at Lyman High School in Longwood, Florida. The event was attended by over 25 candidates for a variety of offices and 329 Seminole County voters who participated in the evening's straw poll.
The straw poll featured the United States Senate race at the top of the ticket. Current Senator Marco Rubio, who once unequivocally stated that he would not run for the office this term before reversing himself, dominated his opponents, Carlos Beruff, Dwight Mark Anthony and Ernie Rivera, who finished well behind Rubio in that order.
Current members of the House of Representatives Alan Grayson and Patrick Murphy battled for the top spot on the Democratic side as expected. However, there was one big surprise. "Rocky" Roque De La Fuente, who just entered the US Senate race at the end of June after competing in 46 Democratic Presidential primaries and caucuses, finished a strong third only 7 percent behind Murphy. In doing so, he passed Pam Keith and Reginald Luster, who have been pursuing the Democratic nomination for months.
De La Fuente said, "I've only been in the race for a little more than two weeks, so I have some catching up to do. While Alan (Grayson) and Patrick (Murphy) may have a more name recognition in this part of Florida, I believe my real world experience and the solutions I offer will help get my name out there."
De La Fuente is the non-traditional candidate in this race. He has a record of success in the private sector having created thousands of jobs across this country as well as several others. He was recently awarded an honorary doctorate by UNESCO for his work as an International Corporate Ambassador.
When pressed about his chances, he said, "I think the people of Florida are smart. If they want the same results they've been getting, they can vote for the same people. If they want something better, they can vote for someone with fresh ideas who comes from their world rather than the political world of Washington, D.C."
On the Libertarian side, Augustus Invictus defeated Paul Stanton with a light turnout. Most of the people in attendance were focused on the two major parties and the rivalries therein.