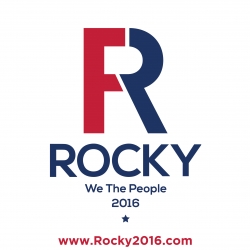 Philadelphia, PA, July 26, 2016 --(
PR.com
)-- On Sunday, Rep. Debbie Wasserman Schultz (D-FL) announced that she would resign from her leadership position as Democratic National Committee Chair at the end of the party's Convention in Philadelphia and reduce her Convention role to calling it to order and calling it to a close. However, by Monday, she stated that she would no longer perform any public function at the event.
"This is not a matter of choice but rather a force of circumstance," said "Rocky" Roque De La Fuente, currently a Democratic candidate for United States Senate in Florida, and formerly a Democratic Presidential candidate. While there has been discontent among party factions throughout the year because of Wasserman Schultz's alleged disproportionate favoritism of Hillary Clinton, the Chair has been able to dismiss them as false narratives until recently.
"The treasure trove of information resulting from Guccifer 2.0's hack of the DNC server and WikiLeaks' recent release of 20,000 related emails contributed to the end of Wasserman Schultz's tenure," said De La Fuente. "While her previous denials of bias bought her time, the avalanche of emails finally brought her down."
Internal emails reveal that the DNC, at its highest levels, were plotting against Sen. Bernie Sanders. Discussions about damaging his campaign by characterizing it as disorganized have been exposed. A plot to attack him personally on the issue of his faith was also considered. It was believed that positioning him as an atheist would help Clinton's southern strategy.
When Jake Tapper asked Sanders about Wasserman Schultz on CNN's "State of the Union," Sanders said, "I don't think she is qualified to be the chair of the DNC. Not only for these awful emails, which revealed the prejudice of the DNC, but also because we need a party that reaches out to working people and young people, and I don't think her leadership style is doing that."
De La Fuente has expressed similar concerns about the DNC Chair in the past. When asked his opinion on Wasserman Schultz's announced departure, De La Fuente said, "I think it was the right thing to do. She was Hillary's campaign Chair in 2008 and seems to never have left that role." He continued, "I suspect she will be rewarded with a senior position in the Clinton Administration if the Secretary wins the Presidency. In that regard, I hope she does the honorable thing for the people of Florida's 23rd District and drops out of the Democratic primary. Why run if you're not going to serve? I think she should step aside in favor of Tim Canova. He's a bright and articulate candidate who would bring fresh new ideas and energy to his District, D.C., and the Democratic Party."
Shortly after De La Fuente made his comment, NPR reported that Hillary Clinton announced that Wasserman Schultz will serve as honorary chair of Clinton's 50-state program to help elect Democrats across the Nation.
"None of today's events should come as a surprise," said De La Fuente. "The writing was on the wall back in February." After being "disinvited" to attend a DNC debate for suggesting that more than six Democratic Presidential debates might be appropriate, Congresswoman Tulsi Gabbard, then-Vice Chair of the Democratic National Committee, resigned her DNC post. She felt pressured not to do anything that was not in support of Clinton's candidacy and authored the famous comment, "When I signed up to be Vice Chair of the DNC, no one told me I would be relinquishing my freedom of speech and checking it at the door."
One thing is for sure: Debbie Wasserman Schultz's tour of duty as Democratic National Chair will officially come to a close at the end of the Convention.
Background
"Rocky" Roque De La Fuente is living proof that the American Dream can be achieved by those who are inspired to pursue it. He has an amazing record of overcoming obstacles and achieving success. From being licensed by the FAA to fly single engine planes at the age of 20 to owning 28 automobile dealerships and becoming Chairman of the National Dealers Council for the third largest automobile manufacturer in the world by the age of 28, Rocky is in a league by himself. He also created a banking network in 1982 to help address an economic crisis in Mexico and established impressive real estate holdings throughout the United States while generating thousands of new jobs along the way. Rocky holds a bachelor's degree in Physics and Mathematics (Magna Cum Laude) and exudes a passion for his country and for those who seek the opportunity to fulfill their version of the American Dream.
For more information, please visit: https://www.rocky2016.com/
Twitter: @VoteRocky2016 Facebook: https://www.facebook.com/voterocky2016
YouTube: https://www.youtube.com/channel/UCwWkeiS23HBvDgPBqbBzyQA