De La Fuente Continues to Surge in US Senate Race
The Lakeland Area Chamber of Commerce held its Political Hob Nob event in the Florida Air Museum at the SUN 'n FUN Expo Campus in Lakeland, Florida, last night. The event attracted 292 people and more than 25 candidates competing for a variety of offices. It's traditional straw poll added some excitement and surprises to end the evening.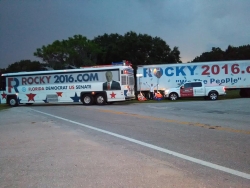 Lakeland, FL, August 03, 2016 --(
PR.com
)-- The Lakeland Area Chamber of Commerce held its Political Hob Nob event in the Florida Air Museum at the SUN 'n FUN Expo Campus in Lakeland, Florida, last night. The event attracted 292 people and more than 25 candidates competing for a variety of offices.
Donald Trump crushed Hillary Clinton in the presidential straw poll, and Marco Rubio did the same to his Republican opponents for the United States Senate seat he previously said he would abandon. However, the Democratic race for U.S. Senate is shaping up to be a much more interesting one.
Rep. Patrick Murphy garnered 35.9 percent of the vote, Rep. Grayson received 28.2 percent, and newcomer "Rocky" Roque De La Fuente finished close behind with 24.4 percent of the vote. Pamela Keith and Reginald Luster received 6.4 and 5.1 percent, respectively.
Murphy and Grayson traded places compared to the order in which they finished in the recent Casselberry Chamber straw poll, perhaps based on whose controversy is the latest. Murphy was under heavy media scrutiny for lying about his academic and business background when the Casselberry vote was cast on July 13th. Now, it is Grayson who is coming under fire for his alleged spousal abuse as reported by various news agencies across the state.
De La Fuente continues to perform unexpectedly well in these straw polls. After only being in the race a little more than two weeks before the Casselberry straw poll, he managed to finish third (7 percent behind the second place candidate). This time, he closed the gap even more finishing only 3.8 percent out of second place.
De La Fuente said, "Unlike media polls that are administered anonymously and are heavily skewed toward name recognition, straw poll events allow voters to actually meet candidates and learn about their positions." He continued, "I do exceptionally well when I have the opportunity to speak with voters, share my views and listen to theirs."
However, De La Fuente continues to struggle to get traditional media attention. Recently, WFTV9 (ABC) announced a televised debate that will only feature Murphy and Grayson. Pamela Keith, another Democratic candidate, issued a statement that assailed WFTV (published in the Tampa Bay Times on July 27th).
In part, Keith said, "The idea of a news outlet reaching 'agreement' with two candidates to exclude one of their opponents from a debate is, in an(d) of itself, obscene... But in this case, the collusion is even more distasteful because of the blatant racism and sexism involved therein. Not only have they colluded to keep me out of this debate, but to keep all candidates of color out of the debate. As disrespectful as that is to the candidates themselves, it is an utter debasement of voters of color. Essentially, WFTV wants to ensure that all voters, but especially women, African American and Hispanic voters, remain ignorant of any candidates other than the two wealthy white men they seek to promote. It is an offense and disgrace."
Keith and Reginal Luster are African American candidates while De La Fuente is of Hispanic heritage.
"Pam has a point," said De La Fuente. "However, I think the media has also defaulted to only featuring candidates who already have name recognition. Maybe it's better for ratings, or maybe it's just easier to promote whom they know rather than do the research necessary to help the electorate become more informed. Either way, it's patently unfair to candidates like Pam, Reginald and me, who offer fresh ideas and perspectives rather than the stale offerings of a career politician."
It will be interesting to see whether tradition media outlets begin to include De La Fuente in the mix after his string showings in the recent straw polls. It will also be interesting to see whether voters begin to exert pressure on the media to expand their coverage to include options to the status quo.
Background
"Rocky" Roque De La Fuente is living proof that the American Dream can be achieved by those who are inspired to pursue it. He has an amazing record of overcoming obstacles and achieving success. From being licensed by the FAA to fly single engine planes at the age of 20 to owning 28 automobile dealerships and becoming Chairman of the National Dealers Council for the third largest automobile manufacturer in the world by the age of 28, Rocky is in a league by himself. He also created a banking network in 1982 to help address an economic crisis in Mexico and established impressive real estate holdings throughout the United States while generating thousands of new jobs along the way. Rocky holds a bachelor's degree in Physics and Mathematics (Magna Cum Laude) and exudes a passion for his country and for those who seek the opportunity to fulfill their version of the American Dream.
For more information, please visit: https://www.rocky2016.com/
Twitter: @VoteRocky2016
Facebook: https://www.facebook.com/voterocky2016
YouTube: https://www.youtube.com/channel/UCwWkeiS23HBvDgPBqbBzyQA
Contact
Rocky Florida US Senate
Danielle De La Fuente
619-917-2077
www.Rocky2016.com

Contact