The Mule Tavern Opens at 5227 South Tacoma Way
The Mule Tavern, a new dive bar on South Tacoma Way is now open for business.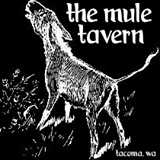 Tacoma, WA, July 30, 2016 --(
PR.com
)-- The Mule Tavern quietly opened their doors on July 13th. This a dive bar at heart, but they can still make great cocktails. They have a board with "classic" cocktails ranging from $6-8. Don't call them a craft cocktail bar, they don't wear vests, charge $15 for a cocktail, and they won't bore you with stories about prohibition. They believe drinking should be fun, not educational.
They have a "Mule" List (Mules are ginger beer based cocktails) and make their ginger beer in house with fresh ginger and lemon juice. It is force carbonated, not fermented, so it tastes fresh and crisp. Their Mules range from $5-$7. Cheap! You can also get 32 oz. growlers to go. They have Tall boys, domestic beers, and a decent range of craft and Mexican beers. They also have three Tap handles, Hamm's, Pacific Malting and Brewing's Red Ale, and Top cutter IPA. The goal is to be as inclusive as possible and be a place where friends can come in with very different tastes and all be happy.
They don't have music and events and hope to keep it that way. They want to be the bar where you can always come and talk to your friends or make new ones. You can sit at the bar and chat with the locals or squeeze into a dimly lit booth with your friends.
They do have darts, left over from the former bar (The Oasis Tavern). Darts has a long history at the bar and they want to keep it alive. Their pool table is only a quarter to play and they maintain a free library where you can grab a book to take home or drop one off to share.
Happy hour is from 4-6 every day. $3 Wells, $4 Moscow Mules, and $5 Old Fashions. As well as $1-off domestics and snacks.
The food menu is mostly snacks (warm pistachios, pickled herring, goat cheese spread with toast, pretzels with hot mustard) and sandwiches (French dip or grilled cheese with tomato soup, and a dry Rueben with "mule sauce" for dipping).
The owner Sam Halhuli stated, "So far the neighborhood seems to be excited to have us here. Everyone has been so friendly and supportive. The bar is rarely totally empty, and for a guy who just moved to town and has done no promotions, were doing great. Every day is better than I expect and I see new and returning faces. We even have a few regulars! For two weeks in, that's not too shabby."
Come by, meet Sam and enjoy a drink in the friendly atmosphere of The Mule Tavern soon.
Contact
The Mule Bar
Sam Halhuli
(253) 212-3113
https://www.facebook.com/themuletavern

Contact