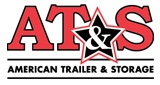 St. Louis, MO, July 30, 2016 --(
PR.com
)-- The Missouri Works Program is designed to facilitate the creation of quality jobs through targeted business projects throughout Missouri. American Trailer & Storage, Inc. (AT&S) is a proud participant in this program in both Kansas City and St. Louis, helping create quality jobs and improve the immediate community surrounding their facilities.
To qualify for the Missouri Works Program, a qualified company must: Create two or more new jobs at the project facility, spend at least $100,000 of new capital investment at the project facility and the average wage of the new payroll must equal or exceed 80% of the county average wage. In addition, the project facility must be within a qualified Enhanced Enterprise Zone. What does all that mean? It means AT&S is bringing new, quality jobs to the areas that need it most.
AT&S is currently expanding their facilities in St. Louis with the development of property near Broadway and Hall Street. In addition to adding facility space for AT&S, improvements to the surrounding area include a new tenant for an existing restaurant and creating new tenant space next to the existing Concentra Urgent Care. Over the next 5 years, AT&S plans to add 9 new jobs to the St. Louis facility.
For more information on the Missouri Works Project, please visit www.ded.mo.gov. For more information on American Trailer & Storage, please visit
www.ATandSonline.com
.