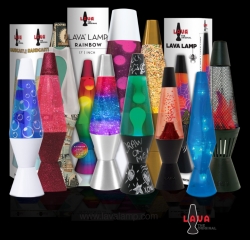 Elk Grove Village, IL, August 09, 2016 --(
PR.com
)-- Lifespan brandsTM is proud to announce the addition of several new LAVA® lamps, lights and novelty items to its product line. Along with several new colors of classic lamps, these LAVA® lamp products are new to the lineup this year:
Chalkboard "Draw on Me" Green LAVA® Lamp
Chalkboard "Draw on Me" Pink Glitter Lamp
Classic 14.5" LAVA® Lamps:
Tri-colored Glitter ColormaxTM
Northern Lights Tri-colored ColormaxTM
Concert Tri-colored ColormaxTM
Pink GlittermaxTM
Gold Metallic
Blue Metallic
Spider Lamp with Sound
Fireplace Lamp
Sandcastle Lamp
Mini Volcano Lamp
Star Vortex Lamp
17" Glitter Lamp
17" Travel Stamp Decal Lamp
17" Rainbow LAVA® Lamp
Twinkle Lights: blue and pink
String Lights: lava lamps, hearts, stars, flamingos, bows, flip flops and popsicles
Pull Lights: pink, blue and black
Some of these lamps, specialty lights and more are now available for purchase at fine retailers across the country in addition to www.lavalamp.com. More new products will become available throughout the rest of August and September.
About Lifespan brandsTM
Lifespan brandsTM is the international manufacturing company that offers a wide range of products including: LAVA® lamps, party products, novelty lighting and bathroom scales. Now over 50 years old and based out of Elk Grove Village, IL, lifespan brandsTM holds the US trademark rights to the shape and name LAVA® lamp. Their products are sold across various distribution channels in US, Canadian and European retailers.
For media inquiries, please contact Tami Craig at 630.496.6618 or tcraig@lifespanbrandsco.com