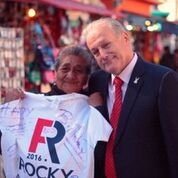 Dallas, TX, August 12, 2016 --(
PR.com
)-- The Reform Party has announced the selection of "Rocky" Roque De La Fuente as its 2016 presidential nominee. With origins rooted in the 1992 presidential campaign of Ross Perot, the Reform Party has a history of attracting and nominating political luminaries on both sides of the aisle, including conservative Pat Buchanan and progressive Ralph Nader. In some regards, De La Fuente splits the difference as he is a progressive on social issues and "responsible" (to use his term) with respect to economic issues. He also is known for taking a firm stance on ethics and electoral reform, which are among the Reform Party's core principles.
De La Fuente most recently completed a presidential primary run within the Democratic Party. He competed in 40 states, 5 territories and the District of Columbia often having to make history to even gain ballot access.
"State Parties do their best to deny access to grass roots candidates like me," said De La Fuente of his experience during the Democratic primary. "They either block new candidates outright, or they establish signature petition barriers that are so high that almost no one can overcome them."
However, De La Fuente was the exception to the rule as he became the first candidate to qualify by signature petition in states like Massachusetts, Michigan and North Carolina. He competed seriously enough to amass more votes than current Governors Walker and Jindal, former Governors Chafee, Perry, Pataki & Gilmore, current Senator Graham and former Senators Webb and Santorum combined as well as more votes than Carly Fiorina, former Governor Huckabee, current Governor Christie and current Senator Rand Paul individually.
He was particularly attracted to the Reform Party's commitment to electoral reform having been a victim of the process during his Democratic Primary. "My candidacy in the primary was manipulated about every way you can imagine; from unilateral decisions that denied ballot access to a refusal to include me in the polls that determined whether a candidate gets to participate in the debates and town halls," said De La Fuente. "But what troubled me most was the outright election fraud that I experienced," he continued.
He points to the example of how 8,000 votes disappeared from his total in Travis County, Texas in less than 20 minutes during the actual course of the tallying; a practice that he says occurred in nearly every state that ran a primary as opposed to a caucus.
"The same thing happened to Bernie Sanders in several states, but Bernie has refused to pursue the issue," said De La Fuente. "Luckily, the Reform Party has the character to push for the electoral reform that is so desperately needed, and it will be a privilege to carry the banner for them in that regard."
De La Fuente won the nomination over Darcy Richardson, Dr. Lynn Kahn and Ken Cross. Outgoing Reform Party Chair, David Collison said, "Our Party was blessed to have four well qualified candidates vying for the nomination. Each brought great strengths to the table. We are extremely pleased to have Rocky De La Fuente as our nominee. His accomplishments, political tenacity, and dedication to making the electoral process fair distinguished him from many of the other candidates who are participating in this year's General Election."
Background
"Rocky" Roque De La Fuente is living proof that the American Dream can be achieved by those who are inspired to pursue it. He has an amazing record of overcoming obstacles and achieving success. From being licensed by the FAA to fly single engine planes at the age of 20 to owning 28 automobile dealerships and becoming Chairman of the National Dealers Council for the third largest automobile manufacturer in the world by the age of 28, Rocky is in a league by himself. He also created a banking network in 1982 to help address an economic crisis in Mexico and established impressive real estate holdings throughout the United States while generating thousands of new jobs along the way. Rocky holds a bachelor's degree in Physics and Mathematics (Magna Cum Laude) and exudes a passion for his country and for those who seek the opportunity to fulfill their version of the American Dream.
For more information, please visit: https://www.rocky2016.com/
Twitter: @VoteRocky2016
Facebook: https://www.facebook.com/voterocky2016
YouTube: https://www.youtube.com/channel/UCwWkeiS23HBvDgPBqbBzyQA