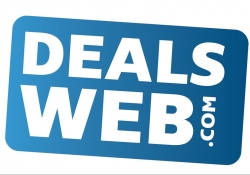 North Brunswick, NJ, August 16, 2016 --(
PR.com
)-- North Brunswick, NJ – The NGA Group Inc. will launch Dealsweb.com, a website devoted to the best online deals and the deal-seeker community on August 1, 2016.
Dealsweb.com, the newest site from the home of Movers.com, provides users with the best deals from all over the web. The site's home page features the newest and hottest deals, while deeper in the site users can find deals related to any and every category. They can join the site to save favorite deals and subscribe to custom email updates.
The site looks to bring deals and content to the NGA Group's biggest project, Movers.com. Movers.com has a dedicated user base averaging 9,000 registered users each month and 300,000 visitors.
"We are really excited to announce the launch of our new site. Our goal is to help our users find the best deals on the products that they need," says Vidyadhar Garapati, NGA Group Inc. CEO.
Press Contact:
Name: Vidyadhar Garapati
Phone: 732-917-4033
Email: deals@dealsweb.com