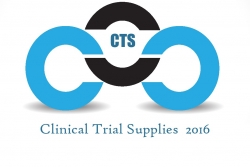 London, United Kingdom, August 25, 2016 --(
PR.com
)-- Clinical Trial Supplies 2nd Annual Symposium will be held in Brussels on the 20th and 21st of October 2016. CTS is a meeting dedicated in exploring the medical supplies required for Clinical Trials and Operations. Presented by prestigious pharmaceutical and biotechnology companies globally engaged to discuss key challenges in Clinical Trial Logistics. With capacity of 120+ attendees, CTS will be held along with the 4th Annual Clinical Outsourcing Strategies Symposium (COS 2016), sharing the same days, venue and exhibition area.
The Clinical Trial Supplies conference is an annual event and a dedicated platform for Clinical Trials Logistics, Storage, Labelling and Packaging departments from Bio/Pharma-Biotech companies joining as end users. While sales, Business Development and Marketing colleagues from clinical logistics and supplies service and solution providers join to assist end users with their challenges.
The Speaking Panel includes professionals like Mr Claudio A. Lorck, the Associate Director, Lead EU QPs, Clinical Product Supply of AbbVie, Mr Ewald Kamp, Head Clinical Distribution & Supply Services of Roche Pharmaceuticals and Mr Dan Markusson, the Chief Operating Officer of Peptonic Medical AB among others. Mrs Jasmin Hellwig, the Senior Comparator Sourcing Specialist of Merck MSD will be presenting on the Clinical Trial Supplies Network.
CTS 2016 introduces PCI Pharma Services as one of the sponsor companies that will participate in both CTS (Clinical Trial Supplies) and COS (Clinical Outsourcing Strategies) conferences. PCI Pharma Services is an integrated full service provider, a proven and trusted partner to leading companies in the global healthcare industry. The company offers unparalleled expertise and experience in taking compounds from the earliest stages of development through to successful commercialization, delivering speed-to-market and commercial success for our customers.
The company's core services support each stage of the product lifecycle, including drug development, clinical trial supply, commercial launch and ongoing commercial supply. PCI Pharma Services partner with clients in providing innovative technologies, flexible solutions, and an integrated supply network supporting lifesaving medicines destined to over 100 countries around the world.
The Clinical Trial Supplies Symposium organized by Business Dialogue, has gained a reputation for engaging and tackling the least discussed topics. It is a platform of exceptional intimacy in exchanging information among stakeholders concerned with the entire clinical trial outsourcing cycle.
Conference attendance/Sponsorship-Exhibition Opportunities
enquiry@cts-supplies.com
www.cts-supplies.com