Satellite Backup for Red Cross Chimney Fire Evacuation Center
Satellite TV, WiFi and Phone access donated to Chimney Fire Evacuees. The Center is located at Flamson Middle School Paso Robles.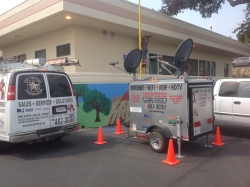 Paso Robles, CA, August 24, 2016 --(
PR.com
)-- Red Cross evacuation center for the Chimney Fire backed up their communications needs with Satellite this week. A COW (Communications on Wheels) was deployed as a public service by John Whitford Communications. The COW mobile unit served the Red Cross personnel and Fire Evacuees the ability to communicate with Unlimited High-Speed WiFi and view local TV channels for updates on the fire conditions. This mobile unit is a listed emergency asset with San Luis Obispo County Office of Emergency Services. The COW is setup and provided to the County free of charge for just this type of need. Owner John Whitford says: "Providing communications to the community in time of need is critical, people can contact loved ones and keep up to date on the situations at hand. This is exactly why I built this unit, it's my way of giving back. Satellite Communications stay up when cellular and land lines go down," says John Whitford.
Contact
John Whitford Communications
John Whitford
805-461-3030
www.johnwhitford.com

Contact