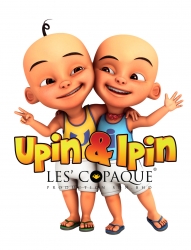 Los Angeles, CA, August 25, 2016 --(
PR.com
)-- JBI Studios announced today that they have dubbed the beloved children's series Upin & Ipin, produced and owned by Malaysian company Les' Copaque Production, into US English, Latin American Spanish and Arabic. The series – a hit in Malaysia and across Asia – was released on Les' Copaque's
YouTube channel
for the US, Latin America, and the Middle East on Wednesday, July 22.
"We have been searching for a suitable studio to dub our products into various languages to broaden our market. It was very fortunate that we have found JBI Studios. Their approach in carrying out the work is so professional and the quality of their work is superb," explained Les' Copaque's Managing Director Hj. Burhanuddin Md Radzi. Particularly challenging was finding child voice-over talents who could play the eponymous young twin brothers, Upin and Ipin. "We relied on very young talents with whom we've worked in the past – these relationships with talents and native-speaker directors are one of the keys to JBI's success," explained JBI CEO Eliane Barth.
Upin & Ipin is currently in its tenth season in Malaysia, where it enjoys a large following and has won numerous awards for content and animation, including being named UNICEF Malaysian National Ambassadors in 2013. It is broadcast elsewhere in the continent by Disney Channel Asia. Created by Hj. Burhanuddin and Hjh. Ainon Ariff, the series follows Upin and Ipin's adventures with their friends in their kampong (village), where they live with their sister Ros and their grandmother Opah.
About JBI Studios:
jbistudios
is leading provider of audio, video and multimedia translation, based in Los Angeles, CA. For over 20 years, JBI has provided high-quality voice-over, lip-sync dubbing and subtitling services to corporate, marketing and entertainment clients.