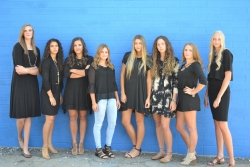 Pleasant Grove, UT, August 25, 2016 --(
PR.com
)-- When Pleasant Grove High School volleyball team rises to announce their starting line-up, the majority of spectators have no idea how many future NCAA athletes are dawning Viking jerseys. 3X State Champions (2012, 2013, 2014) and 2015 Runner-Up, PGHS returns 8 seniors for 2016. Five of those seniors verbally committed to accept full-ride Division I Scholarships this past year.
Last November dual sport athlete, Malli Valgardson, announced her commitment to Brigham Young University (Provo, Utah) for basketball over volleyball. Giana Rasmussen committed to University of North Carolina (Greensboro, North Carolina) in December of 2015. By February of 2016 Heather Gneiting committed to Brigham Young University (Provo, Utah) and Kennedy Redd committed to Weber State University (Ogden, Utah). Spring time promised more commits with Brielle Fowler committing to Weber State University (Ogden, Utah) and Sara Hamson's commitment to Brigham Young University (Provo, Utah). That's not all! Two more Vikings committed this summer with Hannah Waddell accepting a verbal offer to Radford University (Radford, Virginia) and Kazna Tarawhiti announced her commitment to Utah Valley University (Orem, Utah). In case you weren't counting, that's eight (5 seniors, 3 juniors) Division 1 commitments with full-ride scholarships on one high school team.
Volleyball season opened last night with a tough serve by Viking senior setter, Giana Rasmussen. Bingham scrambled to play it out, but their first offensive attempt resulted in a hard stuff by twin towers, Valgardson & Hamson. The PGHS student body immediately erupted into a loud cheer, "This Game's Over!"
Pleasant Grove, coached by Allyce Jones, swept the Bingham Miners 25-17, 25-16, 25-19 to capture their first win of the season. Brielle Fowler led the back court defense last night. Giana Rasmussen tallied 31 assists with an impressive 10.3 assists per set and 10 digs.
Hannah Waddell took the Vikings on a key serving run and Samantha Pond racked up a couple of Aces. Sara Hamson led in kills with 11 on the night followed closely by Heather Gneiting and her 9 kills. Kennedy Redd and Kazna Tarawhiti came away with 6 kills each. Malli Valgardson showed up with 3 kills & 2 Blocks. Ryenne Robinson earned a kill in the third set. The night concluded with a match point kill by Tania Muniz.
The Pleasant Grove Volleyball Squad received an exclusive invitation to attend the SOCAL Volleyball Invitational this season where 32 nationally ranked teams will compete October 14th-15th.