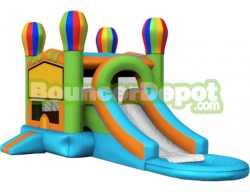 Pacoima, CA, August 29, 2016 --(
PR.com
)-- Commercial bounce house and water slide manufacturer and wholesaler, Bouncer Depot, has recently announced the commencement of its Labor Day Specials on a variety of inflatable play structures, including
bounce houses
, water slides, inflatable obstacles and combo jumpers. Bouncer Depot is currently offering 10 Labor Day Specials on commercial bounce houses as well as
commercial water slides
. These portable inflatable structures are suitable for children's play at birthday parties, play-dates, school functions and other recreational gatherings. Valid until the 5th of September, the discounted prices include all necessary accessories that come with the inflatable slides and bounce houses.
The Promise of Quality
With all of their manufacturing done in-house in the USA, Bouncer Depot promises the best quality in the industry. Each commercial inflatable bounce house and slide is backed by a 30-day money back guarantee. With the largest selection of wholesale bouncers, water slides and inflatable obstacles, Bouncer Depot is the only manufacturer in the industry that offers a full 3-year warranty on all of their products including water slides. Their products are well known throughout the United States, Canada, Latin America and Europe.
Financing Commercial Bounce Houses by Bouncer Depot
"The business of inflatables rentals has been thriving for the past decade in the United States. One of the reasons is that it is relatively easy to start up and the initial investment pays itself in a remarkably short period of time," states a representative of Bouncer Depot. "To make this venture even more appealing to entrepreneurs, our company has elaborated a robust financing program and offers a sharp solution to the financing problem."
Bouncer Depot provides financing on its commercial bounce houses for sale by facilitating the process of getting financial assistance from a number of financing companies and institutions. Customers can contact any of the companies mentioned on Bouncer Depot's website, refer to their partnership with Bouncer Depot and their financing application will be reviewed and processed in a matter of hours.
About the Company
Bouncer Depot
is a manufacturer and wholesaler of commercial bounce houses, water slides and inflatable obstacles. The company was established in Sun Valley, California about a decade ago and believes in utilizing cutting edge technology and extending unsurpassed customer service. Employing the best designers in the business, Bouncer Depot manufactures all of its slides and obstacle courses in their own factory in Los Angeles. For more information, log on to http://www.bouncerdepot.com/ or call toll free at 1-877-577-7119. Bouncer Depot can also be reached on Facebook, Twitter and YouTube.