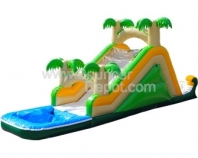 Bouncer Depot is the largest manufacturer in the USA who offers inflatable water slides, bounce houses, inflatable jumpers, obstacle courses and other commercial grade inflatable games for sale. With over 15 years of experience Bouncer Depot is well known for its safe and durable moonwalks, moon jumps, inflatable slides and proudly enjoys the reputation of being one of those few bounce house manufacturers who offer 100% made in USA inflatables.

One of the key points that helped Bouncer Depot to succeed and become one of the most successful and highly regarded inflatable manufacturers is to provide outstanding customer service and always provide all necessary information to each customer so they can make an informed decision during their purchase. The team of knowledgeable sales representatives is always ready to answer all questions and concerns regarding every single product. Bouncer Depot is also known as the only manufacturer who offers a three year warranty on every product they make. While there are very few manufacturers who offer a 3 year warranty on dry products or on products that are not intended to be used in indoor facilities Bouncer Depot makes no exception and believes that each product should come with 3 year warranty including water slides.

Being a direct manufacturer and having a team of professional engineers, Bouncer Depot also offers custom inflatable structures that are used in different industries such as safety pads for athletes or customized inflatable structures that have been used in film and television. Recently, Bouncer Depot was contacted by the creators and owners of The Dirty Dash: an insane 5k mud run that attracts about 5,000 participants in a single weekend! The Dirty Dash commissioned Bouncer Depot to make the world's longest inflatable slip n slide at a whopping 150ft long, exclusively for their mud race. It was by no means an easy feat to manufacture a record breaking inflatable in size that could also withstand such brutal use, but the team at Bouncer Depot rose to the occasion, much to the delight of the tens of thousands of muddy people who have enjoyed it so far!

You can visit www.BouncerDepot.com or call at 1-877-577-7119 for more.
Status

Private Company

Founded

1997

# Employees

35