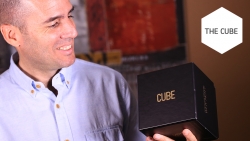 The Woodlands, TX, August 29, 2016 --(
PR.com
)-- Guided by the belief that education is the best way possible to solve many of society's challenges, but that in most cases it is unfortunately still based on early 20th century methods and culture, for the last eight years, Franco Soldi, the founder and CEO of YPD (Young Development Potential), has developed and tested The CUBE with thousands of kids, parents and teachers around the world. It is a unique, revolutionary and engaging education method aimed at developing the skill sets needed for a successful 21st century life.
"YPD CUBE is the first digital program designed with care and love, for our children to work with their parents, grandparents, uncles and aunts, and siblings, awakening their 'I CAN' spirit. They can discover their potential and develop their talents, thinking about the future, and strengthen important communication, creativity and leadership skills that are not often taught in schools today. It helps them to think very seriously about what they are passionate about so they can turn that passion into an honest way to live and be happy." - Franco Soldi
"The social reach of this project is going beyond what we can imagine." - Alberto Varillas Montenegro (Former Education Minister of Peru)
"It is simply fantastic. With the YPD CUBE, kids' talents are unleashed so they can shoot for the moon." - Andrea Ford Hodge (Executive Director, Rice Education Entrepreneurship, Program EEP at RICE University)
"The CUBE captures the authentic energy, creativity, persuasiveness, and visionary leadership of YPD founder and CEO Franco Soldi. The Cube is an engaging tool that helps students master the soft skills for successfully living." - Robert H. McPherson Ph.D. (Dean College of Education University of Houston)
"The YPD CUBE it's simply amazing." - Elena Dinesen (People & Organizational Development Director Microsoft)
From designing a proposal for the next steps in life to developing a plan to create a business or improve their leadership skills; from developing the ability to meet, empathize and connect with people within 60 seconds to developing the ability to change the design of a personal brand; from learning to develop team spirit, to making impressive presentations and learning to speak in public – All using simple, fun and practical language. The CUBE is not intended to tell kids how to do things. It works by sharing tested expertise so it can be applied in a personalized way adapted to the needs, aspirations and knowledge of each person.
"It goes to market at a price of 99 Dollars, as a high quality method that is accessible for everyone. The content is delivered through 100% digitally produced HD videos. One payment and you will be a CUBER for life including free access to the online community, new content and challenges" - Franco Soldi
The CUBE is the gateway to a larger and more connected community. Each CUBE contains a personal code that will allow users to begin a Lifetime in an online community where YPD plans to add new content, challenges, webinars, articles, video tips, forums and monthly events (imagine flying to Madrid with your child to present their video game concept to PlayStation, or going to Washington, DC to present their social project to the Bill & Melinda Gates Foundation in order to continue developing their talent, potential and learning together).
The CUBE is released to the world this September 7th, 2016 through the Kickstarter crowdfunding platform in order to raise sufficient funds to make this project a reality and reach the maximum number of families.
YPD CUBE Kickstarter Preview Page
YPD agrees to sponsor a teacher in a high-risk community in the US for every 10 CUBES sold on Kickstarter. This means selecting, training and certifying a professor in the YPD method.
Through a strategic alliance between YPD and The Bridge online High School (www.thebridgeschool.net), it is intended to give users the option to transform their CUBE experience in a curricular credit valid for High School in the United States.
The CUBE in 5 questions:
1. What it is?
Is a Digital tool designed for parents, family and children to discover together their potential and develop their talents through the combination of information and challenges.
2. When you can buy it?
The CUBE is launched on Kickstarter crowdfunding platform this September 7th. The target is to be available for online pre-sales in October 2016.
3. What is the price?
- $ 99 for physical version of the CUBE (which includes access to the online community).
- $ 75 for the 100% digital version (which also includes access to the online community).
4. Who is the CUBE for?
Parents and family: any age as long as they want to learn with their children.
The children: preferably between 11 and 25 years. Those are the ages where they have been tested with success.
5. How do I know the CUBE works?
The CUBE uses the YPD methodology, which has been used successfully by the best private and public schools in the USA, Spain, Mexico and even in the middle of the Ecuadorian Amazon. It is designed with a simple and direct language to make it accessible and entertaining for audiences of different ages as well as various socioeconomic and cultural strata.
For more information about this revolutionary project contact Franco Soldi (Founder & CEO YPD) directly on +1 (832) 530-8086, franco@ypdgroup.com, Twitter @francosoldi or thecubenow.com.
Find more info about YPD and Franco Soldi at ypdgroup.com.