Amaryllo Connects with ASUS SmartHome
Amaryllo ATOM enables ASUS SmartHome with advanced facial recognition and 360-degree auto-tracking protection.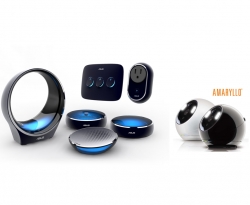 Amsterdam, Netherlands, August 28, 2016 --(
PR.com
)-- Amaryllo International B.V. (Amaryllo), founded in Amsterdam, the Netherlands, announces its alliance with ASUS SmartHome to enable consumers accessing Amaryllo products from ASUS SmartHome. When triggered, ASUS SmartHome sensors will prompt Amaryllo ATOM to auto-track moving intruders, recognize family members, and send alerts to house owners. Amaryllo ATOM is the first home robotic camera that can auto-track intruders and detect human faces in real-time. Amaryllo's latest technical advancement enables ATOM to recognize over 100 family members simultaneously. Unlike traditional facial recognition technologies that cameras upload a large video stream to remote server to perform video analytics, which consumes a wide internet bandwidth and a huge computation power, ATOM is able to perform real-time face detection by its embedded powerful CPUs, resulting in a fast recognition in seconds. With the aid of Amaryllo's advanced technologies, ASUS SmartHome can open its smart door locks when house owners are recognized and disable alarm systems such as sensors, sirens, switches, etc.
Unlike conventional smart home products that are based on simple 64-bit encryption, which can be hacked in minutes, ATOM employs world-best 256-bit encryption technologies. This is the same security protection as used by military to offer people the best privacy protection. Amaryllo's dynamic peer-to-peer video server automatically adjusts video quality based on available bandwidth to reduce video latency and to offer the best streaming video experience. Amaryllo offers free rolling 24-hour unlimited cloud storage for each of its devices, allowing consumers to access recorded video fast and safe anywhere, anytime.
"We are very excited partnering with ASUS. ASUS has a wide range of smart home products, yet it chooses to work with Amaryllo to offer better security protection to consumers," said Lina Le Flech, assistant sales manager at Amaryllo. "We are interested in working with smart home companies to offer our advanced technologies to complement their smart home offering," added Cindy Kuo, sales manager at Amaryllo.
Amaryllo will demonstrate its product integration with ASUS SmartHome at Booth 209 Hall 4.2B IFA Berlin from September 2 to September 7, 2016. To reserve a private product demonstration or to receive product details, please contact Amaryllo at sales.ai@amaryllo.eu. For more product information, please visit Amaryllo website at www.amaryllo.eu.
About Amaryllo International B.V.
Amaryllo International B.V. (Amaryllo) is the worldwide pioneer in home robotic cameras. Founded in Amsterdam, the Netherlands with facilities in Asia, Amaryllo develops and manufactures award-winning advanced robotic cameras and home security products that can detect and recognize human faces with 360-degree auto-tracking. Over 50 patents have been filed or granted in the past few years.
540 Singel, 1017 AZ, Amsterdam, the Netherlands
T: +31 208941387 / F: +31 208941333
sales.ai@amaryllo.eu / www.amaryllo.eu
About ASUS
ASUS is a worldwide top-three consumer notebook vendor and maker of the world's best-selling, most award-winning motherboards. A leading enterprise in the new digital era, ASUS designs and manufactures products that perfectly meet the needs of today's digital home and office, with a broad portfolio that includes motherboards, graphics cards, optical drivers, displays, desktop and all-in-one PCs, notebooks, notebooks, servers, multimedia devices, wireless solutions, networking devices, tablets, smartphones, and wearables. ASUS has 17,000 employees around the globe with a world-class R&D team of over 5,500 engineers. Company revenue for 2015 was approximately USD 14 billion.
Contact
Amaryllo International B.V.
Lina Le Flech
+31208941387
www.amaryllo.eu

Contact