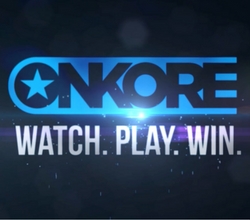 Redwood City, CA, September 02, 2016 --(
PR.com
)-- ONKORE is pleased to announce the release of Bachelor Fantasy, a unique fantasy gaming experience for fans of the show. With Bachelor Fantasy, fans can challenge friends and family in live tournaments, then Watch, Play and Win real rewards like Gift Cards from Amazon, Starbucks and Target. Players earn points through knowledge of the show, and skilled predictions of how events will unfold during each episode.
CEO and co-founder Jonathan Lindo of Onkore, Inc. has a strong track-record of bringing unique, engaging technology to market. "Pursuing the opportunity to bring together our passions for Reality TV and Fantasy Gaming has been incredibly exciting. We know we share these passions with millions of TV fans around the world, and can't wait for them to experience the rewarding, engaging experience of Fantasy Gaming for Reality TV."
Bachelor Fantasy is the first app experience delivered by Onkore. With Onkore, fans can join a game before the show, choose show contestants to create their personal fantasy team, predict what will happen during the episode, then check-in after the show to collect rewards. True fans can also join during the show to chat and compete with friends and other players live during the broadcast.
Onkore enables deep engagement around content fans are passionate about, as well as competitive social experiences and strong incentives for fans to watch, play, and most importantly, have fun.
Bachelor Fantasy Features:
Incentivized "Fantasy Sports"-style Gameplay for TV
Real-world Rewards, Merchandise, Gift cards
Competitive Gaming with Friends and Fans
In-app Chat and social media sharing
WATCH. PLAY. WIN.
Pricing and Availability
Bachelor Fantasy is available on the App Store for free. Bachelor Fantasy is designed for iPhone and iPod touch. Bachelor Fantasy requires iOS 9.0 or newer. Bachelor Fantasy is not affiliated or endorsed by ABC's The Bachelor™, Bachelor in Paradise™ or The Bachelorette™ .
App Store Link: http://appstore.com/bachelorfantasy