2016 Top 40 Under 40: Megan Gluth-Bohan - TRInternational, Inc., Seattle
Seattle Puget Sound Business Journal honors TRI's President and General Counsel, Mrs. Megan Gluth-Bohan, "40 Under 40" business leaders in the Seattle area.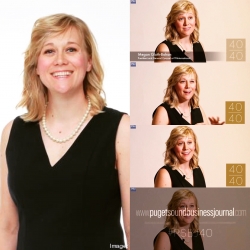 Seattle, WA, September 07, 2016 --(
PR.com
)-- TRInternational, Inc. (TRI Chemicals), a global chemical distributor, is honored to acknowledge the prodigious selection of President and General Counsel, Mrs. Megan Gluth-Bohan, to Seattle's 2016 40 Under 40 Honorees. As written by the Seattle Puget Sound Business Journal, "Four hundred were nominated, 40 were selected. They're driven. They're powerful. They're all under 40 years old."
The honor of being named to the 40 Under 40 is reserved for business leaders from across industry sectors who are making significant strides to strengthen their organization, foster an internal environment for success and give back to the community. Over 400 individuals were nominated and asked to complete a lengthy questionnaire about their business philosophy, leadership style, career breakthrough and Civic, Community and Industry involvement.
The staff at TRI is overjoyed to be celebrating this great honor together. The selection of Mrs. Gluth-Bohan solidifies the hard work and successes they've shared since her appointment to President in 2015.
They recognize her as a strong, pragmatic and generous leader, invested in the success of each and every team member. Success as an organization is directly related to the effort and guidance she provides day in and day out. Her greatness has created an opening for others to be great.
For more information please contact TRI's Director of Marketing, Jennifer Calvery at +1-(206)-505-3500 or online at our website.
About TRInternational, Inc. (TRI Chemicals)
TRI's unique approach to chemical distribution offers a variety of products and services tailored to fit the needs of each customer. Founded in 1994 and headquartered in Seattle, WA, TRI holds regional offices throughout the United States and a Global Sourcing office in Shanghai, China. TRI is an active member of the National Association of Chemical Distributors (NACD) and participates in the Responsible Distribution verification process.
TRI's mission statement is to "Continue to create sustainable partnerships worldwide by providing innovative and competitive sourcing solutions. Our success is based on the ethics and ingenuity of our team; we create an environment that promotes growth for our employees, partners and community."
Source: TRInternational, Inc.
Contact
TRInternational, Inc.
Jennifer Calvery
206-505-3500
www.trichemicals.com

Contact