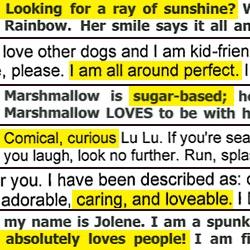 Santa Rosa, CA, September 20, 2016 --(
PR.com
)-- DogsBite.org, a national dog bite victims' advocacy organization, releases a detailed investigation into what lies behind the 'fabled' click and bait adoption listings of aggressive shelter dogs available for adoption today. The investigation examines 34 case files from Sonoma County Animal Services (SCAS). The report shows that a county shelter will candy-coat dogs with aggressive behaviors in their zeal to increase Live Release Rate.
Investigation:
What's Behind the Click and Bait Web Advertisements of Aggressive Shelter Dogs Available for Adoption Today?
After receiving letters from "concerned" SCAS employees -- supplied in the report -- the nonprofit filed a public records request for 34 dogs, including all behavioral and medical notes. The files are not a random sampling of cases; they only include questionable and problematic cases. The examination showed that dogs publicly advertised as a "ray of sunshine," and "caring and lovable" and "I am all around perfect," had many aggressive behaviors documented in their files.
The investigation also examines the broader issue of Live Release Rate (LRR), and how more shelters today are prioritizing LLR over public safety, shelter staff safety, and in many cases, over animal welfare too. In the case of Sonoma County: "You will read about dogs with serious aggression euthanized only after being adopted or fostered and returned. You will read about dogs with multiple aggression memos that management adopted out anyway," states the report.
The investigation narrows its presentation down to the 13 worst cases. Animal behaviorist and author Alexandra Semyonova supplies an analysis of each so that layman can understand minifying jargon like, "bouncy" play style, and "mouthy," often used to describe aggressive behaviors. Semyonova provides a special report as well, Behavior Testing Shelter Dogs -- A Summary of Where We Are Now. The report explains what a behavior test is and is not, in relation to shelter dogs.
A Call-to-Action is issued in the investigation that spells out how the public can request the uncensored behavioral and medical files of a dog before it is adopted. "While the intentions of many adoption facilitators are good, and their work certainly is difficult," states the report, Live Release Rate and emotions often "defeats sensibilities." Requesting these records upfront will save the heartache of having to return a shelter dog due to its aggression, stresses the Call-to-Action.
The investigation also provides a summary of all 34 files, which shows that pit bulls and ownerless dogs made up the majority of all cases reviewed. Of the total 34 cases, 27 (79%) were pit bulls or pit bull-mixes and 25 (74%) were designated as strays. Of the stray dogs, 20 (80%) were pit bulls. A total of 9 cases resulted in euthanasia; 7 (78%) involved pit bulls. Of all cases resulting in euthanasia, 3 of these dogs were either adopted or fostered prior to being humanely euthanized.
About DogsBite.org
DogsBite.org is a national dog bite victims' group dedicated to reducing serious dog attacks. Through our work, we hope to protect both people and pets from future attacks. Our website, www.dogsbite.org, was launched in October 2007 and contains a wide collection of data to help policymakers and citizens learn about dangerous dogs. Our research focuses on pit bull type dogs. Due to selective breeding practices that emphasize aggression and tenacity, this class of dogs negatively impacts communities the most. Our website hosts important dog bite studies, U.S. dog bite fatalities and other key bibliographies. In the Legislating Dogs portion of our site, we offer examples of breed-specific laws (state-by-state) and documentation of the constitutionality of these laws. The Victim Realities section provides a glance into the unforgettable histories victims leave behind and much more. DogsBite.org operates out of Austin, Texas and can be contacted via: 512-650-8510 or press@dogsbite.org. Research contributions and active website participation stems from individuals that span the United States of America and across the world.