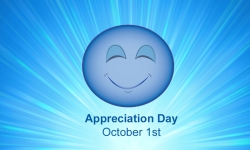 Dallas, TX, September 23, 2016 --(
PR.com
)-- October 1st marks the third annual Appreciation Day created to allow people to share posts & emails showing words of Appreciation for free. The Appreciater can also share their words by sharing them on Facebook, Twitter or the Appreciation Society blog.
"Appreciation is a missing ingredient in most people's daily lives….both at home and at work. At the Appreciation Society we define Appreciation as a long term thank you," says Russell Cleveland, Founder. Mr. Cleveland continues to state, "By utilizing the magic of Appreciation individuals are creating a win-win situation for everyone. Both for the person giving the sentiment and the person receiving the Appreciation."
Beginning September 24, 2016 for the days leading to Appreciation Day, October 1st, the Appreciation Society will be giving away Amazon gift cards to individuals who post on Facebook or the Appreciation society blog things or people they appreciate. The Appreciation Society will choose their favorites and announce the winner on Facebook each day.
www.appreciationsociety.com
The purpose of the Appreciation Society is to give everyone a chance to share Appreciation in various different ways. Individuals can share Appreciation through social media, free online cards, and occasional newsletters. The Appreciation Society also offers companies the opportunity to partner with the Appreciation Society to learn how to show employees and customers how to express their gratitude.
The website offers the opportunity to send a free animated e-card. One ecard is appropriate for acquaintances, colleagues and clients, and the other is more personal and emotional created for sending to family, friends or someone special.
"At the Appreciation Society, we take pleasure in conveying the overall message of the importance of sharing Appreciation," says Cleveland.