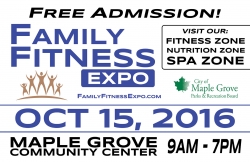 Maple Grove, MN, September 23, 2016 --(
PR.com
)-- The Family Fitness Expo was created to educate kids, parents, and grandparents on new exercise, nutrition, and overall wellness techniques, products, and services.
Family Fitness Expo created its own magazine featuring a fun and healthy article from Natural Awakenings magazine. And contacts for great local health, fitness, and nutritional providers. The magazine is handed out at the show and mailed to 1800 local residents.
This year Family Fitness Expo also added a Fitness Zone, Nutrition Zone, and Spa Zone with fun giveaways from Prize Sponsors.
8 Free Seminars are given throughout the day.
Seminars are as follows:
11am - Young Living - Patrice Valene
12pm - Advocare - Nick Frenzen
1pm - Shaklee - Dave Carlstedt
2pm - Health Coach - Jenn Espinosa-Goswami
3pm - Trillium Chiropractic - Chiropractic Care
4pm - Isagenix - Jeanette Peterson
5pm - Clear Health Chiropractic - Eric Coombs
6pm - Lisa Snyder Bodyworks - Lisa Snyder
Ryan Cahill founder of the Family Fitness Expo has created and promoted over 75 shows throughout Minnesota, in his career. He designed and launched the Family Fitness Expo in 2015 and has expanded to multiple yearly shows in the east and west Twin Cities metro.
"I believe in creating fun events that unite our communities and promote healthy living for our families." - Ryan Cahill
Expo features:
- Healthy Shopping
- Lots of Great Deals on Fitness Gear
- Seminars
- Live Demonstrations
- Health and Nutrition Samples
- Local Community
- Prizes Offered from over 70 Vendors
- Grand Prize Drawing