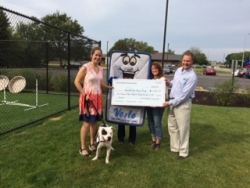 Naperville, IL, October 01, 2016 --(
PR.com
)-- Holds contest for best photo of dog in bed, proves area dogs lead ruff-ruff life.
Verlo Mattress, a company known for helping people to sleep better, recently presented a check for over $1,300 to the Naperville Area Humane Society to provide care for homeless animals, helping dog lovers in Naperville to indeed rest easier. The donation came from a portion of the company's mattress sales during the Labor Day weekend.
"My wife and I are huge dog lovers, and we wanted to be able to do something that would help the animal community, as well as the larger Naperville community," explains Rod Smith, a Naperville resident and co-owner of Verlo Mattress stores in Naperville and Skokie.
In addition to the donation, Verlo hosted a contest asking people to post a photo of their dog in bed on the company's Facebook page, with the cutest picture being selected by the staff of the Humane Society. Over 70 adorable submissions were uploaded to the company's Facebook page, making the selection process very difficult.
The winning entry, entitled "Smell My Feet" was awarded a custom Verlo dog bed, which the company has recently begun making in addition to traditional mattresses. The second place entry, "Fetching Some Zzzs," received a $25 gift card.
To view the photo entries, visit the company's Facebook page and click on Dogs In Bed for The Naperville Area Humane Society.