Ice Cream Depot Launches the World's First Real Home Soft Serve Ice Cream Machine
This patented soft serve ice cream machine makes parlor-perfect soft serve in just 15 minutes.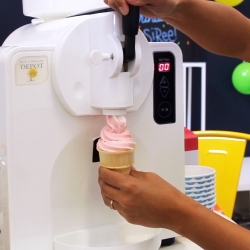 Saint Petersburg, FL, October 04, 2016 --(
PR.com
)-- If you find yourself piling into the car to grab soft serve from a drive through once a week, it's time for an upgrade. The Ice Cream Depot SX1000 is the world's first commercial-style at-home
soft serve machine
and it's now available for purchase. With six patents, it's the only way to make true soft serve without a commercial-grade machine.
The Ice Cream Depot SX1000 makes soft serve ice cream in just 15 minutes right from your kitchen counter. Unlike traditional ice cream makers, the process isn't lengthy, complicated, or messy. There are no bowls to freeze; just pour in your mix, set the timer and wait. When you're ready, swirl the ice cream into a cone or bowl. Not ready to eat just yet? It'll keep your soft serve cold for hours until you're ready to enjoy.
The machine is easy to clean between uses. When one batch is complete you can immediately make another. Plus, you control the portions – use the machine to make a single serving or enough for a party. And although you can buy convenient pre-made mixes, you can also create your own recipes – including vegan and low calorie options.
Ice Cream Depot isn't just for making soft serve. The machine also makes tasty smoothies, boozy drinks, protein shakes, milkshakes and more. It's perfect for groups, bringing tasty fun to birthday parties, offices, summer camps, churches, break rooms or waiting rooms.
Dick Pahl, creator of Ice Cream Depot, was inspired by his own ice cream obsessed family. He wanted to create a machine that he could start immediately before dinner and enjoy right afterwards. After his wife proposed creating a machine that could also make protein shakes and margaritas, Ice Cream Depot became the patented machine it is today.
"It seems like only yesterday when Greg Walsh and I started our research and development, but now with six utility patents later, we have truly the only new kitchen appliance in the last 35 years since the bread maker; the Ice Cream Depot SX1000!" - Dick Pahl, Co-Founder and CEO of Ice Cream Depot
Visit icecreamdepot.com for more information.
About Ice Cream Depot: Invented by a dad to please his growing family, the Ice Cream Depot is a revolutionary home kitchen appliance; the first new gadget to hit the market since the breadmaker over 30 years ago. Located in St. Petersburg, Florida, ICD provides both the SX1000 soft serve machine as well as 20 varieties of soft serve, milkshake, and frozen drink mixes. Learn more about the machine, find custom recipes and read more at icecreamdepot.com.
Contact
Ice Cream Depot
Andi Graham
727-418-4351
http://icecreamdepot.com

Contact