Playa Vista Today Hits the Beach with Silicon Beach Magazine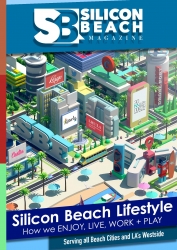 Los Angeles, CA, October 14, 2016 --(
PR.com
)-- Playa Vista Today is pleased to announce that Silicon Beach Magazine continues to offer a link to the community and promises to cover uplifting and positive aspects of local news, events, food and businesses.
The newly rebranded magazine with a circulation of over 36,000 subscribers was developed in cooperation with Playa Vista Today Magazine which offered rich and relevant content that reflects the exciting growth through Los Angeles Beach cities and Westside.
Silicon Beach Magazine is offered on the web at www.siliconbeachmag.com for androids, iPhone and iPad users, plus on Joomag.com where Joomag's newsstand let millions of readers find it and share it.
The visual and editorial quality of Silicon Beach Magazine is top-notch and its pages are inspired by the values and interests of its muse. The magazine's style is fresh, simple and contemporary, and creates an inviting world that has something for everyone living and working in Silicon Beach.
Silicon Beach Magazine on the Web
Online readers will be able to access the magazine's content at SiliconBeachMag.com, which will direct them to the latest issue. On social media, Silicon Beach Magazine shares content and news specific to the magazine via the hashtag (#) Silicon Beach Mag.
Availability and format
Silicon Beach Magazine is available on the web on www.siliconbeachmag.ecom and the www.Joomag.com newsstand (platform for Huffington Post) reaching PC's, androids, iPhones and Tablets. Readers can subscribe for free and receive it every other week.
About Silicon Beach Magazine
As recently quoted in the October issue of Photoshop User Magazine by Jake Widman:
Karen Hassett, Editor-In-Chief, launched Playa Vista Today in 2007 as a way of connecting the community she lived in. "It started as a newsletter template that I emailed out to people," she recalls, "and it just grew and grew," eventually even attracting advertisers. Four years ago, she turned the newsletter into a flipbookstyle magazine on the digital magazine platform Joomag.
Attracting corporate sponsors such as the Los Angeles Clippers, Whole Foods Market, and Doubletree Hotels, the habit of her local readership is indicative of the reasons that the magazine is a huge success through the recent rebranding of Playa Vista Today. Tech companies such as Google, YouTube, and Facebook have been moving into the area, along with a large number of advertising agencies—enough so that some have nicknamed the region "Silicon Valley South." Keeping up with the changes, Playa Vista Today now goes under the title Silicon Beach Magazine. The rebranding involved a new logo, as well as ongoing layout tweaks within the issues themselves.
Hitting the Beach
Silicon Beach Magazine recently was media sponsor to one of LA's biggest tech events, Silicon Beach Fest 2016. A special issue was published on August 26, 2016 highlighting LA's original and longest-running tech startup fest headed by Kevin Winston at Digital LA. The issue covers the powerful presence from entertainment, startups, brands and key speakers from Facebook, Snapchat, Google, Twitter, Instagram, Univision, AT&T and TechStyle.
With a bimonthly email blast, the magazine is the Westside's premier source for the latest in food, real estate, and local events. "Silicon Beach is where we reach!"
Contact
Silicon Beach Magazine
Karen Hassett
310-437-0633
www.siliconbeachmag.com

Contact